Cruises from Australia to the South Pacific, New Zealand and secluded islands
P&O Australia
Founded in 1932 as one of the first companies offering excursions to Australia, P&O Australia has certainly developed into a reliable and experienced cruise line over the years. This cruise line has received awards for being the most trusted brand in Australia. P&O Australia currently operates five ships which leave from local ports in Australia and New Zealand in particular, making this cruise line very convenient for passengers. The newly introduced Pacific Eden and Pacific Aria have quickly gained the reputation of most stylish and modern ships in today's cruise industry. There's a wide range of restaurants to choose from onboard these particular ships including the Dragon Lady and Angelo's Italian restaurant.
Not only does P&O Australia offer the opportunity to embrace a good night life, it is also recognised for its kids and family programming for which it received the 'Best for Family Travel' award in 2014. It is renowned for its fun atmosphere with wall climbing and budget base fare with many on board additions. Meals in the Pantry, Plantation Restaurant and Waterfront Restaurant are included, as well as the majority of onboard activities and programmes such as swimming pools, cinemas and activities for the kids.
show more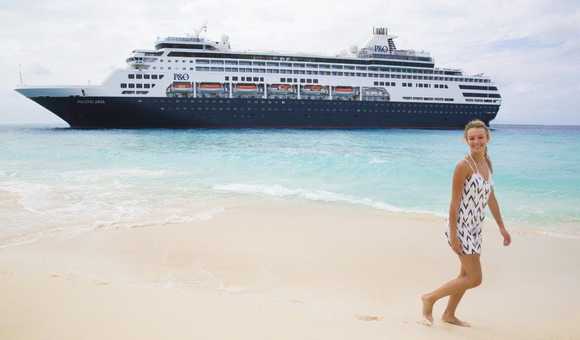 P&O Australia
British-American owned P&O Cruises Australia is among the world's most reputable cruise lines and is headquartered in Southampton, England. It is operated in Australia in North Sydney, New South Wales. It is one of the oldest cruise lines in the world, named as Peninsular & Oriental Steam Navigation Company, and now forms part of the Carnival Corporation & plc. It currently operates three cruise vessels, with two new additional ships to enter service in November 2015.
Meet the Fleet
The P&O Cruises Australia fleet operates year round cruises from Australia to the South Pacific and New Zealand aboard the Pacific Dawn, Pacific Pearl and Pacific Jewel. These three sister ships are joined by P&O's latest fleet members, Pacific Eden and Pacific Aria.
Pacific Aria & Pacific Eden
With its debut in Sydney in November 2015, the Pacific Aria has an innovative look with modern and stylish interior. P&O's latest member features a range of high-class restaurants and eateries including the traditional Angelo's Italian restaurant and the classical Waterfront Restaurant. The ship also features newly renovated staterooms with plus furnishings and ample storage space. Balconies, Suites and Penthouses aboard both the Pacific Aria and Eden will feature spa baths for ultimate relaxation. Guests can check out the stylish two pool decks on-board and shop for top-of-the-range products in the many shops on offer. Jewellery, fragrances, cosmetics, fashion and more can be found in this floating city!
Pacific Jewel
The Pacific Jewel exceeds modern standards with its world-class dining options and on-board amenities. No one does food quite like P&O, and the dining experience on the Pacific Jewel is no different. Discover the mouth-watering menu at the Chef's Table and indulge in some of the best wines served at sea. The Salt Grill lead by world-class check Luke Mangan is a taste for the senses with an extensive menu of signature dishes from all over the world, including the famous liquorice parfait with lime syrup.