Regent Seven Seas Cruises
A specialist in excellent luxury world adventures.
Regent Seven Seas Cruises
Regent cruises offer luxurious all-inclusive cruises to a variety of destinations onboard its three upscale ships: Navigator, Mariner and Voyager. It's renowned for being a world cruising specialist with excellent dining and service. Passengers are promised a fantastic social and friendly ambiance onboard. Although the ships provide a relaxing, enjoyable atmosphere, there's still a very traditional aspect attached to Regent cruises with entertainment featuring karaoke, trivia and Broadway-esque performances.
Passengers tend to dress in an elegant style for dinner, regardless of what the dress code may be. Restaurants onboard are in line with the luxurious title associated with Regent cruises. Each of the ships have four open-seating restaurants including the main restaurant venue, Sette Mari and Prime 7 steakhouse. Each restuarant serves high quality meals and warm, rich wines, all included in the cruise fare. Although Regent cruises are particularly suited to professional and retired couples, the itinerary of the ship tends to influence the passenger age.
show more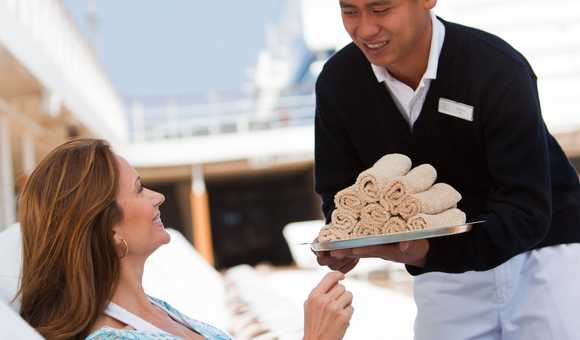 Our Recommendations
Cruises Ending in Australia
Regent Seven Seas Cruises
Regent Seven Seas Cruises
Regent Seven Seas Cruises is a globally known cruise company based in Miami, Florida. Founded in 1990, Regent have continued to grow in size and reputation. The company specialises in luxury cruises that visit a myriad of destinations all over the world with their smaller capacity cruise ships. Past cruise passengers that have used this company have praised the unique, warm and intimate experience associated with their cruises. Because of this, Regent has been awarded numerous awards such as "World's Best Large-Ship Cruise Line" (#3 ranking) – Travel + Leisure (2014) and "Best for Luxury" – Cruise Critic 2014 U.K. Editors' Picks (2014). The traditions of sailing are of key importance aboard the company's magnificent fleet. Regent's now distinguished fleet consists of the beautifully constructed Seven Seas Mariner, Seven Seas Voyager, and the Seven Seas Navigator. The reduced size of these luxury vessels allows them to go places in the world which would otherwise be inaccessible. Some of these destinations include the exciting North American coastlines, the lush Mediterranean and the mystifying Adriatic Sea. Seven Seas goes above and beyond to provide their guests with the best experience and service.
The Fleet
Though the Regent ships lack in size, they more than make up for with their service and an overall quality experience. The ships within the fleet are generally of the same size and capacity but all differ in atmosphere with all having very distinct features. Seven Seas Explorer is the company's newest ship and is currently under construction. It is scheduled to be put into service in the summer of 2016. Very exciting news!