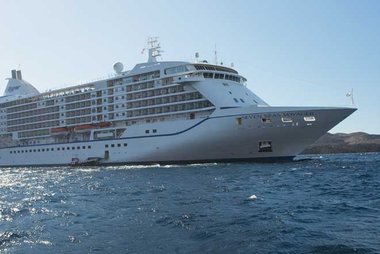 Cabins
All cabins on the Seven Seas Voyager are luxurious suites which offer the greatest comfort. They are spread out over 9 decks and are between 32m² and 126m² in size. All 353 rooms have a private balcony with which one can enjoy the breathtaking views.
Dining Information
Enjoy freshly prepared meals and give your taste buds a flavour sensation they will not forget at one of the four superb restaurants on board which serve everything from regional specialties to International cuisine.
Entertainment and Activities
Relax outside on the spacious sun deck, swimming pool, Jacuzzi, pool bar and poolside grill. See the evening shows at the Constellation Theatre or try your luck in the casino. Those who prefer a quieter evening should visit the elegant Connoisseur Club. For the more athletic passengers, the Seven Seas Voyager offers a fitness centre, a jogging track around the ship and golf practice. In addition, the Seven Seas Voyager has a shopping area with a travel agency, a photo shop, boutiques, an Internet café, a conference room and a library.
Wellness
Take a break from shore excursions at the ship's hair and beauty salon or the spa area complete with sauna and massage treatments.
Features
The following suite categories come with butler service : Penthouse Suite C, Penthouse Suite B, Penthouse Suite A, Seven Seas Suite, Voyager Suite, Grand Suite and Master Suite.
Dress Code
The Seven Seas Voyager has a very relaxed atmosphere therefore it is permissible to wear casual clothing during the day but in the evenings more formal attire is recommended.