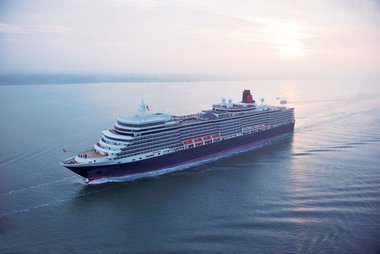 Cabins
The Queen Elizabeth's cabins are the definition of style and comfort. All cabins are spacious and modern with all the modern technologies to make sure your cruise is as enjoyable as possible. With a range of cabins and suites to choose from you are sure to find accommodation that suits all your needs .
Dining Information
The Queen Elizabeth offers a wide range of dining options offering a wide variety of cuisines. Why not experience the food and drink served at the world famous Queens Grill restaurant or the Britannia restaurant. The 'Verandah' restaurant offers you the chance to sample some of the finest French cuisine. The 'Golden Lion Pub' is a traditional English pub serving food and drink in a classically unique English style. 'The Lido' restaurant offers exotic cuisines such as Asian, Mexican and South American dishes. On board the Queen Elizabeth are also several bars and lounges for you to relax and enjoy a drink in.
Entertainment
Why not learn to Jitterbug or Swing on board in one of our dance lessons. Alternatively head down to the Royal Arcade shopping area and browse the many shops offering products from some of the worlds best known brands in our classical boutiques, there is also the opportunity to get a personal consultation. Spectacular shows are always sure to keep you entertained in the Royal Court theater. The sports deck offers you the chance to work up a sweat whilst enjoying the magnificent ocean views. Take a dip in on of our pools or kick back and relax in the hot tub before heading to the spa. Children are sure to be well looked after in "The Zone" and "The Play Zone" game areas.
Activities
There is plenty of room to exercise aboard the Queen Elizabeth. There are numerous open-air pools and whirlpools, as well as a sports deck where you can play boules, paddle-tennis or croquet. You are also welcome to use the wide selection of fitness equipment in the modern gymnasium.
Wellness
Highly recommended is a visit to the exclusive Cunard Royal Spa, where you can enjoy aromatherapy massages and many other relaxing treatments.