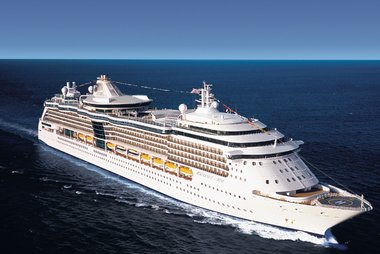 Cabins
Every passenger is certain to find there ideal stateroom on board, thanks to the great selection of cabins on board the Radiance of the Seas. If your looking for luxury and comfort on board be sure to look at the range of Suites aboard, providing numerous benefits for you. A Balcony cabin offers exquisite views from your stateroom and extra space to relax. Inside and Outside cabins are also on offer providing comfort and style with all the amenities needed to meet your needs with 15 wheelchair accessible cabins your sure to find the right choice for you.
Dining Information
Radiance of the Seas offers and range of speciality dining on board and more. While on board you can enjoy different cuisines from around the world, at 'Giovanni's Table' indulge in exquisite Italian cuisine while sipping on a glass of wine while 'Rita's Cantina' offers your favorite Mexican food. You'll be able to try something new every day with endless choice on board. During the day you're also welcome to enjoy a coffee in one of the many cafés, or treat yourself to a scoop of Ben & Jerry's ice cream.
Entertainment
You're sure to stay entertained throughout your journey on board the Radiance of the Seas. Take advantage of the multifaceted entertainment programme, including great performances on the ice rink and in the studio. Each evening you will be mesmerised by Broadway-style entertainment in the three storey Main Theatre. On board you can choose between 16 different bars, clubs and lounges each having its own exclusive experience. 'The Colony Club' has self leveling pool tables and the atmosphere is buzzing while you can enjoy a nice evening at 'Quill & Compass Pub' with a more sophisticated atmosphere.
Activities
You will never experience a dull moment on board Radiance of the Seas activities are endless, with numerous options everyone will find something just for them. For those active souls on board the range of action is spectacular with a rock climbing wall, basketball court, jogging track, mini-golf course and video game arcade your spoilt for choice. For family fun activities there are contests on board along with games and much more. If younger passengers want to meet new friends the Adventure Ocean youth program does just that. For the toddlers and babies aboard there is Royal Tots and Royal Babies and not the forget about the older teens there is exclusive lounge areas and a disco held on different nights of your cruise.
Wellness and Fitness
Leave the monotony of the everyday routine far behind when relaxing in the Vitality Spa on board choose from several different treatments and sink into extreme comfort or if you would prefer spend your day by any of the 3 pools on board including the Solarium for adults only. Keep fit in the fitness centre with classes including yoga and tai chi. On a cool evening why not enjoy a jog on the outdoor jogging track.
Shopping
Find great souvenirs in the comfortable shopping atmosphere found in many boutiques on board, including apparel, perfumes and much more.