Celestyal Cruises
With affordable cruises to Greece, Turkey and Cyprus, you can experience the real charm of these beautiful historic destinations.
Celestyal Cruise Lines
Celestyal Cruise Lines is recognised for its short and budget based cruises offered onboard its six ships. Excursions onboard Celestyal cruises tend to focus on a variety of destinations including the Dalmatian coast, the Mediterranean, the Greek Isles and Cyprus. They endeavour to bring you to as many ports as possible during your designated cruise duration. Although this focus on visiting maximum destinations may leave little time for onboard activities, the cruising experience you get is traditional. In the time that you have onboard, opportunities arise to explore the pool decks, casinos, sundry items and the many other services found on each of the decks. Its aim is to evoke a divine Greek experience and as a result many of the restaurants, bars and theaters onboard have names inspired by Greek mythology. The cruises do not attract a specific type of passenger, but instead appeal to a wide, multilingual spectrum of guests that vary in age and interests ranging from educational groups to a much younger crowd, depending on the chosen destination.
show more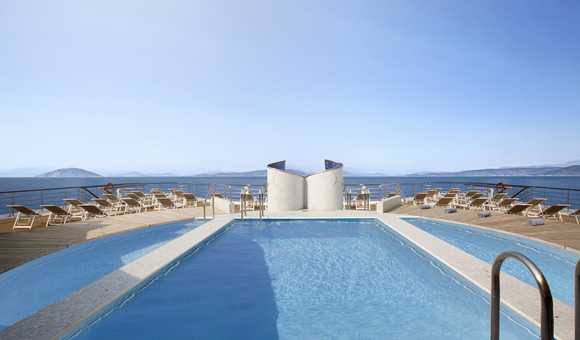 Celestyal Cruise Lines
Celestyal Cruises
With cruises to Greece, Turkey, and Cyprus, passengers aboard a Celstyal Cruise can discover a plethora of historic, beautiful and picturesque destinations. Celestyal Cruises offers the complete cruising experience consisting of comfort, education, entertainment and luxury. Guests are promised an unforgettable experience on each shore excursion as well as on-board, with top-class entertainment and facilities.
Celestyal Cruises guests are promised a once in a life time experience and are guaranteed to leave their cruise feeling relaxed and rejuvenated. Included in the cruise is 24/7 service from the Celestyal crew, top-of-the-range dining, port charges and much more! Celestyal Cruises' model is simple; great hospitality, breathtaking destinations, and interesting excursions.
East Mediterranean Breaks with Celestyal Cruises
Although you will experience and learn a lot during your holiday, you will still leave the ship feeling rejuvenated. Destinations include: Istanbul , the ancient city where East meets West; Athens , one of the world's oldest cities; and the UNESCO World Heritage Site Dubrovnik. Celestyal Cruises offers stress-free cruising with a wide range of all-inclusive cruise packages.