Inspired by the past. Designed for the future.
P&O Cruises
P&O International's roots trace back to 1837 making it the oldest cruise line in the world to operate passenger ships. It now boasts 8 stunning ships which sail to captivating regions. Why not circumnavigate the globe on an infamous round-­the-world cruise? Relax and unwind to a traditional cruising experience on the Aurora or Oriana.
The Britannia, Azura, Ventura, Oceana and Arcadia enthusiastically receive families of all ages entailing children's clubs, entertainment and age specific activities such as talent shows and parties for adventurers aged 2-­17. There is entertainment for everybody like West End performances, comedy shows, nightclubs and dance classes. Just like all meals, this entertainment is all included, allowing you to enjoy without a worrying about costs. Indulge in the cuisine of celebrity chefs like Marco Pierre or relax in the spa.
P&O International has a wide variety of shore excursions allowing you to embrace an African safari or swim with dolphins. No matter which cruise you choose, P&O International promises an unforgettable getaway.
show more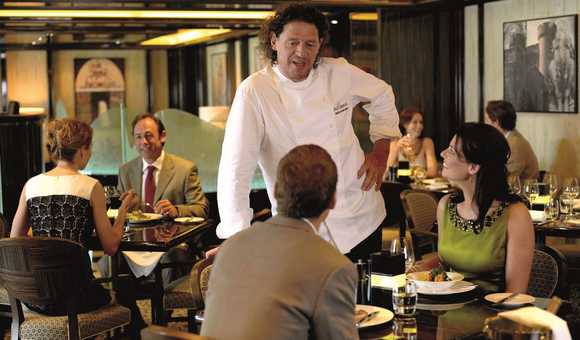 P&O Cruises
P&O International
Along with P&O Australia, P&O International is one of the oldest cruise lines in the world, having operated the world's first passenger ships since the beginning of the 19th Century. Today, P&O stands as proud as ever before and operates an ultra-modern fleet of 8 vessels. A P&O cruise can take you to any corner of the globe to make your dreams a reality. Sail to culture-rich destinations, tropical climates, coastal towns, snow-filled landscapes and more with P&O's itinerary-based cruises. From the diverse landscapes of Australia to the fjordlands of Scandinavia, there is something for every taste on a P&O cruise.
The P&O Fleet
'Inspired by our past. Designed for the future' is the mantra of the grand Britannia and P&O stays true to its word. There is not a more stylish way to see the world quite like the Britannia with sumptuous cuisine, top-quality accommodation and a professional team of staff who will endeavour to meet any needs and special requests – no matter what time of the day or night.
P&O's Azura is over 115,000 tonnes of top-class entertainment and high-quality on-board facilities. At the heart of the Azura lies the classical atrium, a magical social venue located over three magnificent decks filled a café, art gallery, bookshop, library and a range of shopping outlets.
Stylish and modern, Oceana is a family-friendly mid-sized ship complete with two main restaurants and a wide selection of smaller eateries and among this, 10 places to drink, inclusing a nightclub casino two pools and a champagne bar. Adults can soak up the relaxing atmosphere in one of the 4 sparkling pools and 5 whirlpools, or check out the extensive range of treatments available in the spa. Kids will never be bored with a host of fun-filled facilities and swimming pools for the whole family to enjoy.