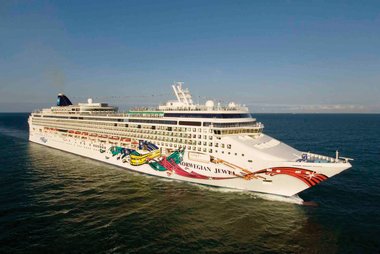 Cabins
There is a cabin on board the Norwegian Jewel for everyone, whether you want a cosy place to call home for the duration of your stay or a lavish suite where you can enjoy a luxurious cruise. Stylish and sophisticated touches are all around the rooms to enhance your cruising experience. The highlights of accommodation on board are the Suites, where you will find a spacious cabin with superb personal butler service and a large private balcony which is perfect to relax on. At the very top of the ship are the Haven category of Suite, where you will find the ulitmate place to enjoy your cruise complete with multiple bedrooms, massive living space and a private garden for your own personal oasis.
Dining Information
On board the Norwegian Jewel, the dining options will be sure to keep every passenger satisfied. In the main dining rooms you can enjoy beautifully crafted and contempary dishes prepared with the finest ingredients. Other options on board include 'The Great Outdoors' serving a wide range of classic ready to serve foods, 'Chin Chin Asian Restaurant' providing freshly prepared Asian fusion food and 'O'Sheehan's', where classic American and favourite comfort foods are served 24 hours a day. After dining, bars and lounges such as 'Magnum's Champagne & Wine Bar', 'Maltings Beer & Whiskey Bar' and 'Shakers Martini & Cocktail' will provide you with a place to enjoy a drink in an enjoyable atmosphere.
Entertainment
There will never be a dull moment on board with the range of entertainment options on board. The 'Band on the Run' show provides a tribute to the music and dance of the 70s', while 'Le Cirque Bijou' is a show full of awe-inspiring acrobatics, gymnastics, singing and dancing. The Comedians and Magicians on board are sure to keep you entertained and the White Hot Party is an electrifying party under the stars and the perfect way to finish a day on board.
Activities
Bring your game face to the outdoor Sports Complex for basketball, volleyball and more. For those who enjoy exercise the Body Waves fitness centre and a high-energy Zumba fitness class are perfect, or you can seek inner peace at one of the daily yoga routines and breathe in fresh ocean air. For something a little more peaceful, you can enjoy a wide variety of literature available in the comfortable and elegant library and the Mandara Spa offers a wide variety of spa treatments to rejuventate your body and soul.