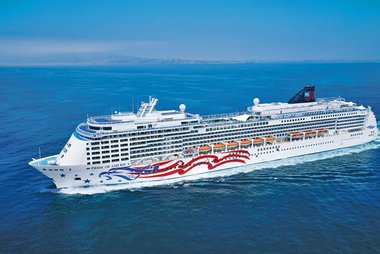 Cabins
Whether you are looking for an indoor, outdoor, or balcony cabin or suite, the Pride of America has a variety of different cabins. Families in particular will have a great selection, with a choice in each category. Thus, the individual needs of families should be optimally fulfilled. Suites and cabins with special charm await you on board to give a genuinely memorable holiday.
Food & Drink
American, French or maybe Italian? On board the Pride of America suits all tastes. You can opt for both the main restaurant as well as one of the many specialty restaurants. In the Lazy J Steakhouse, there is the classic hamburger with fries, at "Le Bistro", you can enjoy French specialties and "Little Italy" promises the traditional Italian cuisine.
Entertainment
In terms of entertainment, the Pride of America has a lot to offer. During the day you can enjoy a balanced recreational programme. Both the sporty guests, as well as those who want to make your journey a relaxing spa vacation, can undertake programmes at an extra cost. The ship boasts a tennis court and jogging track. The spa area offers a variety of treatments , whether you opt for a massage or a beauty treatment you are sure to feel completely relaxed. In the evening you can be enchanted by a performance in the Musical Theatre which hosts Hollywood productions.
Activities
The Pride of America has a variety of activities for you. Both large groups as well as small are catered for. The large pool area on board invites all guests to relax and have fun. But even for those who prefer something quieter the Oasis pool area at the stern of the ship may be more suitable. The entertainment of the little ones during the day is also provided. In Rascals Kid's Club the children can enjoy the play area, swimming pool, computer, movie room or jungle area. There are also joint family activities are available on the Pride of America to spend some quality time together. Take a walk on Newbury Street and do some shopping in the variety of shops. A wide range of fashion and accessories await you.
Special for families with small children
Diapers and wipes for children can be booked as an extra and need not be brought. For prices and more information, please contact our service team.