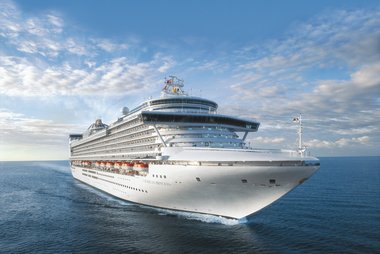 Cabins
About 900 of the 1560 cabins aboard the Caribbean Princess are balcony cabins. In all, you have the choice between diverse suites, balcony cabins, and outer and inner cabins. No matter which category you choose, all cabins offer excellent comfort and a luxurious design. A special feature of the Caribbean Princess is that she has an entire deck fitted only with mini-suites.
Dining Information
The motto "Big Ship Choice, Small Ship Feel" is more than applicable to the service and ambiance on board the Caribbean Princess. This ship is generously proportioned to accommodate all of its many features, but at the same time has a personal atmosphere with friendly, individual service. The food aboard the Caribbean Princess is prepared by first-class chefs, and the entire Princess fleet is proud to be part of the gastronomic society, "Chaîne Rôtisseurs". You can look forward to creative dishes and regularly changing menu presentations. Dine traditionally at set times and enjoy the service of your personal waiter, or eat whenever you please in the Coral or Palm Dining Rooms, for example. Real gourmets are invited to sample exclusive dishes from all over the world in the specialty restaurants, such as Sabatini's or the Sterling Steakhouse. The Caribbean Princess offers plenty of casual bistros, cafés, and bars for snacks and drinks at any time, which you are also welcome to enjoy while lounging by the pool. For example, the Café Caribe treats all guests to local Caribbean specialties.
Entertainment and Activities
You can look forward to countless activities, courses, shows, and other fantastic features aboard the Caribbean Princess. All ships in the Princess fleet are known for their diverse array of informative lectures, workshops, and exhibits. A library, internet café, and wedding chapel are also on board to assist you with a variety of activities. Why not embark on a shopping spree in the duty-free shops? Swim or play golf during the day and enjoy great evening entertainment with the all the latest films or fantastic, Broadway-style shows in the theatre. A casino, the "Movie Under the Stars" open-air cinema, and many different lounges and nightclubs offer even more entertainment after sundown. Kids and teens are invited to check out the kids' and youth centers, which are well-equipped with films, video games, table football, jukeboxes, and board games. There is also diverse entertainment programming for all age groups in the Fun Zone, Teen Center, and Kids' Pool.
Wellness and Sports
Set your spirit free with a luxurious visit to the Caribbean Princess' Lotus Spa wellness area, where different pools and whirlpools are all warmed up to help you relax. The Lotus Spa also houses a state-of-the-art fitness area, among other features. The athletic track, Promenade, and golf simulator are other great workout locations for sports activities such as running, basketball, and table tennis.
Dress Code
The dress code on this ship is generally casual. You're free to wear whatever makes you feel best. However, the dress code becomes smart-casual once the sun goes down, and elegant and formal clothing is recommended for special occasions.