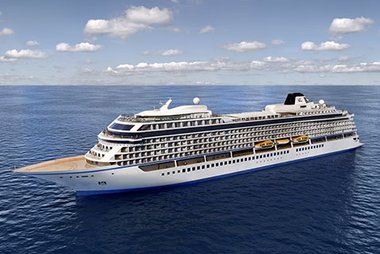 Cabins
Experience nothing but elegance on board the Viking Sea with the choice between Balcony Cabins which consists of the Veranda and Deluxe Veranda, a Minisuite and Suite. All of the staterooms on board are comfortable,spacious and stylish you're sure to feel right at home while cruising along. The only difference between the staterooms is the amenities and benefits that come with the cabin. So be sure to check out all the perks of each cabin before you pick the right stateroom for you.
Dining Information
The dining on board Viking Sea is incredible and you can try different cuisine each evening. The 'Chef's Table' offers exquisite themed food each night has a different theme changing from Chinese to Norwegian and more. 'The Italian Grill' serves up a medley of Italian style food here you will be spoilt for choice. If your feeling hungry while by the pool the 'Pool Grill' is sure to cook you up a storm leaving your taste buds longing for more. Of course what other then the 'Viking Deli' for you to grab lunch in when your feeling hungry between meals. There are a number of cafes on board where you can grab a coffee and a sweet treat!
Entertainment
Entertainment aboard Viking Sea is an experience not to be missed. The main theatre shows various lectures, movies and also ted talk broadcasts. You can relax in the comfortable decor and enjoy any show you wish. In the evening the atmosphere becomes more upbeat and there are performances from singers and dancers showcasing the talents to different themes shows. If you would rather seat in more quite atmosphere, fear not the winter-garden shows movies on a big screen most evenings. There are bars and lounges galore to choose from the 'Explorers Lounge' with pianist performances and marble seating the atmosphere is sophisticated while the 'Torshavn' is a more bright lofty space with exquisite decor and hosts cabaret shows.
Activities
There are numerous enjoyable activities to take part in on board. There is Trivia aboard for those competitive passengers and those who like to spend hours interacting there are plenty of board games available. If you fancy you can spend your day at the pool and indulge in the hot tub. Each port that Viking Sea stops at will have a shore excursion where local guides whom speak English enlighten you on the history, culture and heritage of the port.
Wellness and Fitness
One of the highlights on the cruise is in the LivNordic Spa where you can experience an unbelievable spa treatment or just enjoy an afternoon in the thermal suite. Fall in love with the snow grotto the main attraction of the spa. Keep your heart racing in the fitness center on board or have a go at one of the classes available. If you enjoy running why not try out the jogging track on deck 2 which wraps around the entire ship.