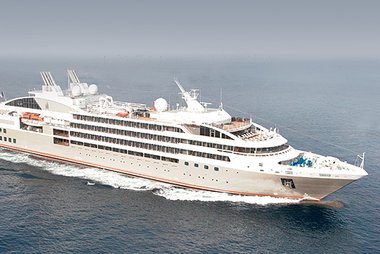 Cabins
Le Lyrial comprises of 122 cabins and suites, majority of which have a private balcony. Both the cabins and the interior of the yacht are decorated in the Ponant tradition. They are not only unique and cozy, but highly modern. The Le Lyrial creates a perfect balance between old and new, making every trip a comfortable and memorable one.
Restaurants
In the two restaurants onboard the Le Lyrial, the Gourmet Restaurant and Grill Restaurant, one can enjoy delicious and exquisite dishes from both French and international cuisine. If one desires after dinner refreshments and cocktails, there is an open-air bar as well as a relaxing café in the Main Lounge on board.
Entertainment
An ideal way to end the day is to enjoy live music in the Main Lounge, which is on offer every night. The Panorama Lounge offers an onboard library where one can read at leisure, surf the Internet, or even play a Nintendo Wii. Numerous events including academic lectures, dance and theatre performances also take place onboard
Wellness and Fitness
Those who wish to keep fit during their holidays can discover the different exciting activities at their disposal at the well-equipped fitness centre and a pool. Additional services include relaxation areas, massage parlours and spa facilities.