Cuba Cruise
Experience the colourful destinations of this historical island with the Cuba cruising experts.
Cuba Cruises by Celestyal Cruises
Cuba Cruise Line is a one ship company which offers cruises to the Caribbean island of Cuba. In 2014 and 2015, Cuba Cruises was the only cruise line to provide passengers with the opportunity to fully circumnavigate the island of Cuba. Cuba cruises aim to visit Cuban highlights while introducing an educative aspect by giving you the opportunity to get an insight into the lives, culture and customs of the Cuban population. Whilst exploring the landscape, you have the chance to witness the formative history and politics, distinctive architecture and art.
Cuba Cruises serve all-inclusive meals on board including breakfast, lunch, afternoon tea, dinner and a wide range of beverages. Both alcoholic and non-alcoholic beverages such as tea, coffee and soft drinks are included in this rate. Facilities available onboard include a fitness centre and sauna, which passengers are free to use as desired. Entertainment is provided onboard for the cruisers and very often takes the form of shows. While Cuba Cruises do not appeal to any age group or type of passenger in particular, they tend to attract many Americans.
show more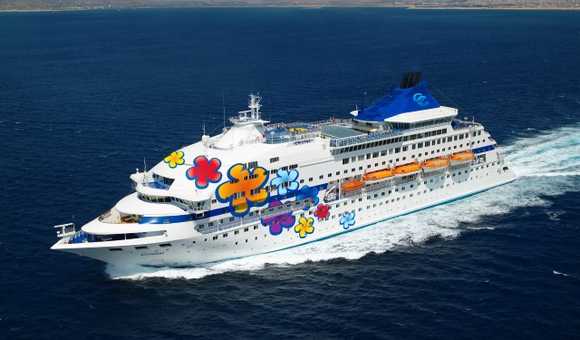 Our Recommendations

This is Your Cuba Havana Return
7 Nights with the Celestyal Crystal
December 2017 - March 2018

This is Your Cuba Montego Return
7 Nights with the Celestyal Crystal
December 2017 - March 2018
Cuba Cruises by Celestyal Cruises
Cuba Cruise
Cuba Cruise does more than what it says on the tin – it transports you around Cuba in style! This Canadian cruise line offers 7-day cruises which circumnavigate the country, stopping off at a host of exciting destinations. To add to the exciting opportunity to explore new and vibrant cultures, you can also make Jamaica a port of call. Discover why Cuba Cruise will be the holiday of a lifetime!
Cruise Cuba! The land of vibrancy
A cruise around Cuba will set your senses tingling. The plethora of exhilarating activities and colourful destinations will make this a unique holiday to remember. Cuba Cruise's one ship, the Louis Cristal, departs from Havana on Mondays and from the Jamaican Montego Bay on Fridays. From here you will discover the delights of Havana, Antilla, and Santiago de Cuba, to name just a few. You will snorkel the coral reefs around Paradise Island, explore the mangroves of Santiago, hike tropical mountains, and go bamboo rafting. When you're not adventuring you can simply soak up the rays on an idyllic beach or explore the towns and learn about their history. A good opportunity to soak up some culture (literally!) will present itself in the form of the famed Cuban cigars, rum and music. Cuba Cruise is an expert at organising shore excursions which will enable you to tick off all of these fantastic activities without having to worry about a thing. You can purchase these extras before your departure on board, any time up to 48 hours before the time of the activity.
Sail away with the Louis Cristal
The Louis Cristal is a wonderful yacht-like vessel which comfortably accommodates 1200 passengers. It has 480 staterooms, all complete with ensuite bathrooms, a telephone, and a television. The higher class of cabin comes with large balconies which are perfect for admiring the fabulous views and soaking up the sun. As well as this they feature large lounge areas for entertaining or simply relaxing, and double beds. The ship itself has all the amenities you could want, and then some. The Louis Cristal has pulled out all the stops to provide its guests evening entertainment worthy of a cruise around this fun-loving island. Think a Metropolitan Show Lounge, a Stars Lounge and disco, a casino, and a Riviera pool bar. Dining options are also generous too; you can help yourself to a delicious buffet at the Traviata restaurant or celebrate in style at the more formal La Scala & Alberta Prime Steakhouse restaurants. During the day you can keep in touch in the internet area or take in some art in the photo gallery. Or you can indulge yourself by looking around the on board shop, having a dip in the Jacuzzi and then getting a massage in the beauty salon. The ship also boasts expansive conference rooms, a swimming pool and a fitness centre. In all, this is a real home-away-from-home.
Make your holiday with Cuba Cruise happen
Cuba Cruise sails between December and late March, and it is now becoming easier and easier for Americans to hop on board Cuba Cruise without all the red tape. Cuba Cruise offers special deals throughout the year, such as a 7 day Air Package including direct flights to Cuba and transfers from the airport – ideal for the ultimate hassle-free holiday. Their other offers span themes such as Kids Travel Free and Valentine's Day cruises.
Why not get in touch with one of our expert CruiseAway advisers? They are more than happy to discuss your dream holiday and help you find the best deals on board the fabulous Celestyal Crystal.