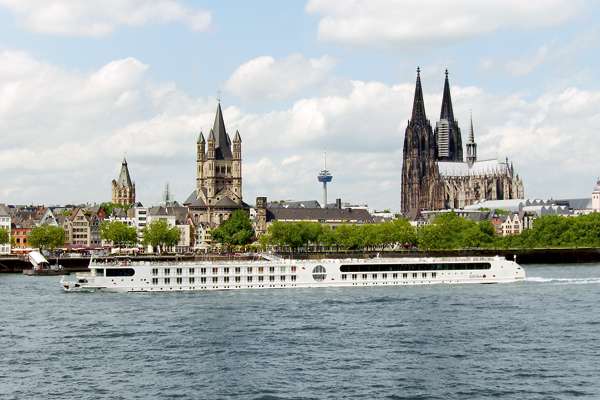 Cabins
The A-ROSA SILVA is the newest ship of the A-ROSA fleet. The cabins are equipped with warm woods and bright colors. The modern and cozy ambience makes the cabin a perfect home from home.
Food & Drink
Let us pamper your palate with fresh and regional delicacies. Select at the cold/hot buffet and at the cooking station your own menu and decide anew every day, whether you prefer to eat outside on the deck or inside the restaurant. The live cooking events allow you to see the food being freshly prepared right before your eyes.
Entertainment
The high-quality entertainment on the A-ROSA SILVA can be enjoyed both upfront or from afar. The stylish evening program runs from the day on through. Swing for example, a leg or listen to the lectures of some artists.
Activities
Guests can relax on the sun loungers on deck, in the hot tubs or visit the on-board spa-ROSA, in numerous treatments await you. If you prefer a sportier holiday, can spend some time putting on the green on deck, play shuffleboard or swim one in the pool. The shore excursions invite you can participate in cycling or Nordic walking tours.
Dress Code
Well-being is of paramount importance on the A-ROSA SILVA. Wear on board so feel what you like. Think also of warm clothes for cozy evenings on the deck as well as weatherproof clothing and stout footwear for the excursions ashore.