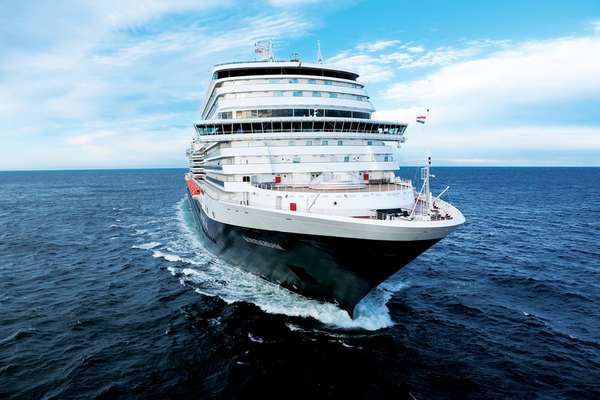 Cabins
All cabin types on board the Konigsdam are designed with the passengers cruising experience in mind. With a modern and functional design characterized by light, space and elegance, you can be assured of always having the perfect place to relax after a days adventures. From the small details like bedside USB ports and complimentary fresh fruit in all cabins to the elegant design and service available in the Pinnacle Suite, there is a perfect cabin on board for an unforgettable cruising experience.
Food & Drinks
Led by Master Chef Rudi Sodamin, the exceptional culinary staff creates signature Holland America line dishes using only the freshest produce and the highest quality meats and seafood available. The As You Wish Dining program allows you to choose from the best of both worlds; either traditional pre-set seating and dining times, or a completely flexible dining schedule. The Koningsdam also offers complimentary 24-hour room service, a range of child-friendly menus on board and a range of cafés for espressos and pastries. Special dietary needs are easily accommodated with advance requests.
Entertainment
The Queen's Lounge has been re-designed along the lines of a strikingly elegant theater. Now spanning two floors, the Queen's Lounge hosts the popular B.B. King's Blues Club, and the largest dance floor. The Crow's Nest is the perfect place to settle down with a drink while you enjoy the views that are provided to you through huge wrap-around windows, framing the breathtaking scenery you sail past.
Wellness & Fitness
Take advantage of the sport utilities in the Fitness Centre, or play basketball, volleyball or bridge. Refresh yourself in the spa after a shopping spree or explore our art gallery. Relaxation can also be found in lounging by the pool.