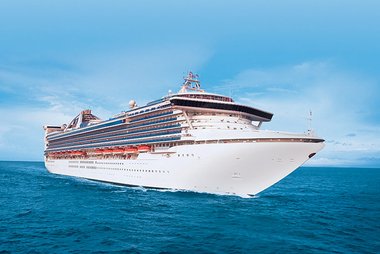 Cabins
A cruise with the Star Princess means the choice of 1297 luxury cabins. The friendly design in each one spans over at least 15m², thus allowing you plenty of room to stretch out and relax. The Suites on board the Star Princess offer one-of-a-kind luxury in spacious rooms. No matter which cabin you choose, your cruise holiday is guaranteed to be a wonderfully unforgettable experience.
Dining Information
A great selection of cuisine is offered in many different restaurants on board the Star Princess, ensuring satisfaction for every taste. 'Sabatini's', an Italian restaurant, and 'Crown Grill' are particularly popular. You even have the opportunity to dine in some of the specialty restaurants around the clock. The professional chefs on board the Star Princess design their menus with new creative dishes every day. In case you'd like to linger a little longer by the pool, you can also find plenty of snacks and smaller meal options in one of the casual dining restaurants or right on deck.
Entertainment and Activities
The Star Princess offers her guests a wonderfully diverse entertainment programme in many great locations, including an open-air cinema 'Movies Under the Stars', a 'Princess Theatre', a casino and a nightclub among many others. The theatre is renowned for its excellent acoustics and the cinema is home to all the best first-runs. Cosy evenings can be spent enjoying a delicious cocktail at one of the numerous onboard bars. Other offerings include art collections, interesting lectures and courses with expert instruction.
Wellness and Sports
The sports and wellness options on board the Star Princess are also extensive. Balance out the culinary work of the master chefs with a run on the athletic track, with a visit to the well-equipped fitness centre or with a game of football or tennis. Multiple heated whirlpools are naturally also available to help you send the stress of your everyday routine on its way.
Shopping
The duty-free shops on board give you the chance to purchase gifts and clothing, as well as the possibility of booking future cruises.
Dress Code
The dress code is casual during the day; feel free to dress at your leisure. Smart-casual clothing is recommended for evenings, and fancier, more elegant clothing is welcome for special occasions. Warm clothing should also not be forgotten for air conditioned spaces and cool evenings on deck.