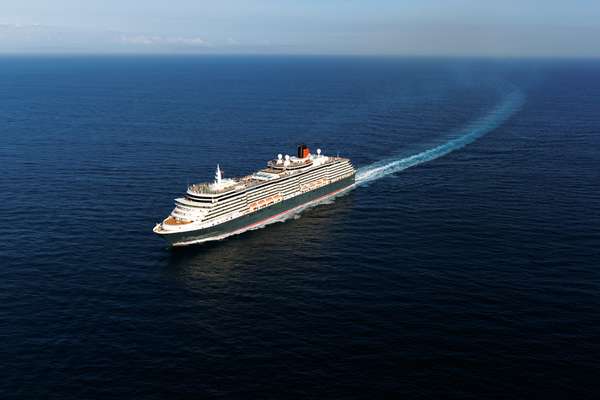 Cabins
Choose from a wide range of stateroom categories, all of which are furnished in a classic, luxurious way and offer a large selection of amenities. Guests of the Britannia cabins enjoy a 24-hour cabin service and dine in the exclusive Britannia restaurant. Residents of the Princess Grill Suites benefit from many additional amenities, such as a concierge service and a fruit basket and champagne as welcome gifts. The Queens Grill Suites are the home to absolute luxury and promise to leave no wish unfulfilled.
Food & Drinks
Experience exquisite cuisine on board the Queen Victoria. The 'Britannia' restaurant stretches across two floors and charms guests with an elegant atmosphere created by fine glass and bronze detailing. Another highlight is the restaurant 'Todd English', which was named after it's famous chef who personally prepares Mediterranean delicacies for your enjoyment. The more casual restaurant, 'Lido', provides a great buffet selection all day long, and offers Italian, Asian and Indian dishes in the evening. Guests in the Princess Grill Suites dine in the intimate 'Princess Grill' restaurant with a panoramic sea view. This restaurant is reserved exclusively for Princess Grill Suites residents. All guests are invited to use the 12 unique bars, lounges and pubs. In the 'Golden Lion' pub you can enjoy traditional English pub food, beer and cider in a cosy setting or savour a glass of port, cognac or Madeira in the 'Churchill Cigar' lounge.
Entertainment
No matter how you decide to pass your time on board the Queen Victoria, we can assure you that you will never get bored. Learn about the early days of sailing and about Cunard's origins in the museum, or test your luck with a round of roulette, blackjack or poker in the casino. A popular stop on board is the 370 m² shopping mall, which accommodates many boutiques of internationally renowned designers. Head to the 'Royal Court' theatre after the sun goes down to enjoy a first class evening programme. Endless activities provide hours of entertainment on board the Queen Victoria. The conference rooms are not only used for meetings, but also for various programmes, such as art classes, wine tastings and classes about navigation and shipping. Attend an interesting lecture by a renowned speaker or simply relax on the sun deck after a refreshing dip in one of the swimming pools.
Wellness & Fitness
The Queen Victoria offers an extensive and stylish spa and wellness area. Relax in the hydrotherapy pool and the thermal suites or treat yourself to a relaxing beauty or wellness treatment. Use one of the many fitness machines to work up a sweat in the gymnasium, or play a round of table tennis, golf, shuffleboard or table tennis. If you're after something different, you could also learn to fence onboard.