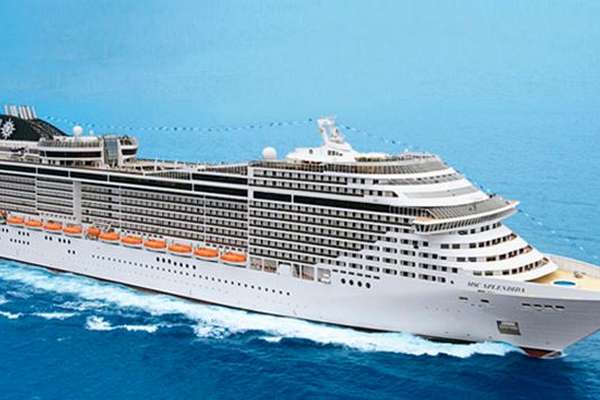 Cabins
The MSC Splendida offers a wide variety of cabins and suites, all of which provide a fantastic ambiance that will help you feel at home in no time. Each cabin includes special features, such as air conditioning and a safe for your valuables. Guests in suites have the additional luxury of a Nintendo Wii console. Cabin categories range from inner and outer cabin with or without a balcony to a variety of luxury suites, including the Standard Suite, Deluxe Suite and the Royal Suite with balcony. Additionally, the Executive & Family Suite features a wonderful panoramic window. Guests in the Aurea Suite have the opportunity to choose between a balcony or panoramic window.
Dining Information
Four restaurants such as Sante Fe Tex Mex and L'Olivo, with international cuisine from Italy to Mexico offer a wide range of delicious dishes. After dinner you can relax with a drink in the Purple Jazz Bar or enjoy delicious ice cream at La Piazzetta. Pago Buffet also offers more casual buffet-style dining on board. Enjoy a coffee in the cosy atmosphere of L'Espresso while flipping through the pages of your favourite magazine.
Entertainment
The Splendida offers plenty of activities for your recreation and leisure, such as swimming in one of four pools on board or just relaxing on a comfortable deck chair in the sun. Night owls will be very pleased with Club 33 Disco as well as the Royal Palm Casino. where you can play poker, black jack or try your luck at the slot machines.
Activities
There is a diverse programme of wellness and sports activities available on board. Use the spa with its sauna and massage treatments to get some well-deserved downtime or get a workout jogging or playing squash.
Shopping
The shopping area with its numerous shops invites you to stop by. In this relaxed atmosphere you are bound to find everything you are searching for
Special Features
The cruise ship MSC Splendida presents an exquisite passenger zone. The MSC Yacht Club offers many exclusive services, such as a personal greeting from the captain and 24-hour room service. The quiet atmosphere of the library makes it the perfect place for avid readers.
Dress Code
There is no set dress code on board to which one must adhere; passengers are invited to dress at their leisure. Clothing recommendations for special events can be found in the cruise program. As there will be formal events on board, it is advisable for men to bring a suit and for women to bring elegant evening attire.