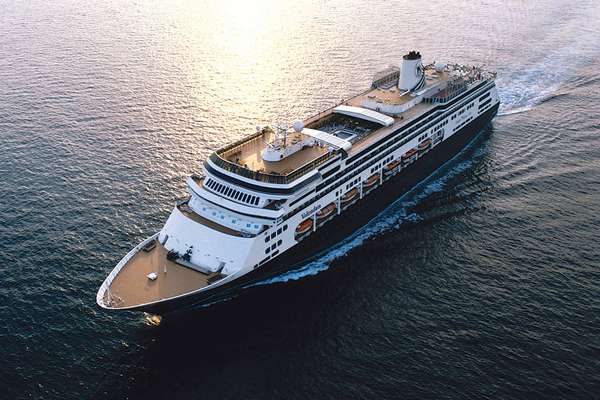 Cabins
All Cabins on the Volendam offer you a spacious, comfortable place to relax for the duration of your cruise. You will find a comfortable sitting area to relax in and the beds with luxurious bedding will welcome you after a days adventures. In some cabins you will find a balcony complete with furniture which will allow you to sit back and enjoy the beautiful views as you cruise. The highlight of living on board is in the Pinnacle Suites, where you will find a large living area, a guest toilet and a large veranda perfect for entertaining friends.
Food & Drinks
When it comes to cuisine, the Volendam has plenty to offer. While on the one hand you have the option of relaxing à la carte in the Lido Restaurant all day, on the other hand you could be served a variety of 5-course meals in the Rotterdam Dining Room, where you can enjoy a selection of continental and vegetarian meals, as well as a variety of delicious wines. A casual meal can be found alongside the pool and for something a bit more luxurious Le Cirque is the perfect place to go, offering a range of delicious French cuisine.
Entertainment
The Volendam offers you a range of ways to keep yourself entertained while on board. There is a range of places perfect to enjoy a drink with friends, from the sing-song friendly Piano Bar to the panoramic Explorer's Lounge or Crow's Nest Lounge where you can enjoy beautiful views. The Frans Hals Show Lounge will host a number of shows that will be guaranteed to provide enjoyment while the Casino is the place to test your luck on a number of well-known card games. A variety of different after-dinner music is also available in the Explorer Lounge and The Ocean Bar. The activities on offer will keep you busy and content at all times during your cruise. Wander through the Volendam's galleries and admire sculptures, paintings and other works of art by talented artists. Relax at your leisure on the sun deck or take a dip in the swimming pool to freshen up. If you feel like reading a good book, head over to the library in the Explorations Café. Children and teens will also be able to benefit from various offerings on board. Kids between three and twelve years old will be taken care of at the Club HAL and can play in its game room. Teenagers between the ages of 13 and 17 will be able to make new friends and spend time in the company of peers in The Loft and The Oasis.
Wellness & Fitness
In the onboard spa and salon you can treat yourself to spa and beauty treatments and forget about your worries by enjoying a relaxing massage. If you're looking to keep in good shape or just have fun playing sports, bring your friends to the basketball or tennis courts. Additionally, you will have a choice of two swimming pools to take a swim in. A visit to the gym with its wide range of machines will allow sports enthusiasts to have a proper work out.
Travelling with Children
All passengers under the age of 18 must be accompanied by a parent or guardian at all times during the trip.