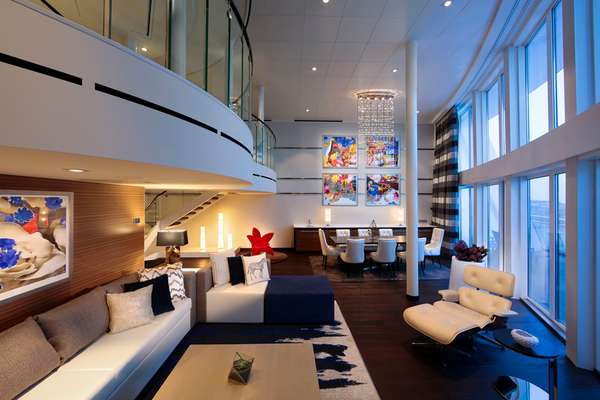 Cabins
Thanks to the latest technology the Anthem of the Seas boasts a very high standard for their cabins. The Cabins have more space and comfort, as well as clever storage solutions. New techniques even allow inside cabins to enjoy a virtual balcony with views. Different categories are available for you to choose from; for families there are three different categories that can also be combined, there are also new loft suites on board, studio cabins and balcony cabins for solo travelers.
Food & Drinks
On board you can enjoy the most diverse and flexible of kitchens available in the delicatessen restaurants. The Cafe @ Two70 ° is a true gourmet delight that offers an appealing atmosphere. There is also the first Royal Caribbean ice bar to cool off in. My Time Dining gives you the flexibility to choose your own time and table companions each evening. For families with children 3-11 years, My Family Time Dining is also available, where kids can enjoy their meal within 40 minutes of seating
Entertainment
Recent innovations make the Anthem of the Seas a real entertainment hub! The ship offers, among other things, the "Two70" a fascinating 270 ° panoramic view and the technical masterpiece, the North Star brings you up to 90 meters high above the sea. It also has a host of all-round family activities such as the new SeaPlex where you drive bumper cars, visit a circus school or play basketball. Music lovers will also get their money's worth at the Music Hall, there are rousing live music from the house band and exciting theme parties. Adventurous passengers will surely find something on this ship! On board you can experience the thrill of the "in-the-air floating" skydiving in RipCord. For the sportier guests there is also a climbing wall and a surf simulator and the more relaxed passenger can swim in the indoor - and outdoor pool.
Travelling with Children
Traveling on the Anthem of the Seas all persons under the age of 18 are considered a minor. Also, young adults 18-21 years of age need a guardian.