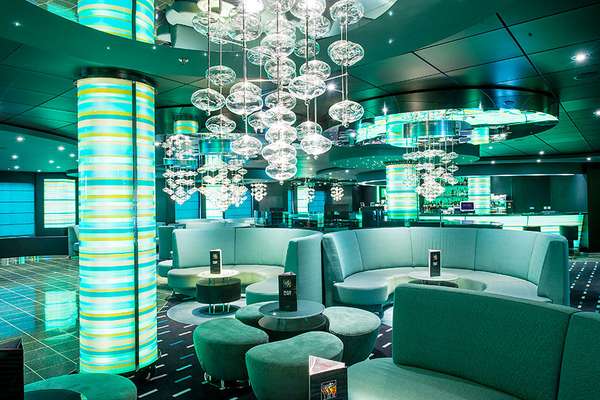 Cabins
The elegant and modern cabins aboard the MSCPreziosa leave no wish unfulfilled. Here you may choose between inner cabins, outer cabins, balcony cabins, and suites with or without panorama windows. No matter which cabin you choose, you are bound to feel comfortable in your home away from home.
Food & Drinks
Treat yourself to exquisite culinary delicacies during your holiday aboard the MSC Preziosa. Feel free to dine in one of the four main restaurants or two specialty restaurants on board, each of which offers a great selection of fresh and high-quality meals. No matter whether you're in the mood for Italian, Mexican, or French cuisine, you are bound to find everything your heart desires. After sunset you can relax or party it up in one of the 21 bars and lounges, each of which has a great selection of wines, cocktails, and other refreshing drinks.
Shopping
With its numerous shops and boutiques, the Italian Marketplace is the perfect place for a shopping spree. There you will find a jeweller, an electronics store, a perfumery, and a sweets shop, among many others.
Entertainment
The entertainment offerings on board are diverse and offer fun for guests of all ages. Watch a one-of-a-kind show in the theatre, which can seat up to 1650 people, or play a round of blackjack in the 1000 m² large casino. Other exciting places aboard the MSC Preziosa include discotheques and lounges, an internet café, a 4-D cinema, a cigar lounge, and children and youth clubs for kids and teens of various ages.
Wellness & Fitness
Let yourself be pampered on all accounts in the luxurious AUREA SPA. Here you can delight in countless wellness and spa treatments, such as aromatherapy, Thalasso baths, and chromotherapy, as well as manicures, pedicures, and various massages. Leave your worries far behind with a visit to the countless pools, saunas, and whirlpools in the spacious SPA area. There are also plenty of opportunities for the actively-inclined, such as a fitness centre, squash and tennis courts, yoga and aerobics courses, a bowling alley, and a mini-golf course.