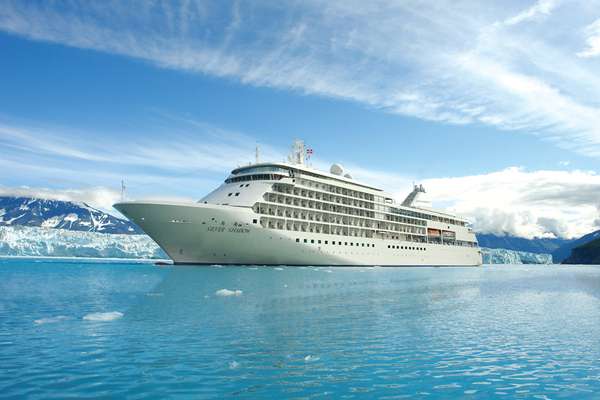 Cabins
There are 194 outer cabins aboard the Silver Shadow, all of which range between 23 m² and 133 m² in size. All suites are luxuriously fitted and offer a walk-in wardrobe, a separate living area, a minibar and a safe. Additional features in these cabins include a telephone, a flat screen TV with built in DVD player, and a radio, as well as a hair dryer, bathrobes, a spacious bathroom with two washbasins, WC, a bath and a shower. Four of five cabins even have their own patios.
Food & Drinks
Aboard the Silver Shadow, your daily experience will be filled with the finest of dishes, magnificent views of the sea and a flexible choice of seating. To add to your great experience, you will have a choice between three cozy restaurants to eat in, meaning that you will be able to mix and match your culinary preference with the company of your choice at meal times. The phenomenal cuisine is inspired from world-famous chefs from Relais & Chateaux. You will be spoiled for choice every day with the extensive selection of meals. If you feel like having Italian à la carte, you can visit the La Terrazze to try some authentic recipes cooked with fresh ingredients. You are also welcome to take your meal with you and enjoy it later on, perhaps in your suite or on the sun deck. For your convenience, you are able to order meals delivered to your suite and call on the suite service around the clock at no extra cost.
Entertainment
Whether it may be a casino, boutiques, a library or a show lounge that you wish to visit, all are available on board, making sure that activity and entertainment needs are fully met. At the bar, you can enjoy a nice cocktail and afterwards visit the dance floor and show off your moves. Perhaps you would like to take it easy and just listen to some live music? It is all possible aboard this luxury cruise ship. Other facilities include a beauty salon, spa and gym. Work out with the personal trainer and then head over to the spa for a relaxing massage. The library is filled with interesting magazines, audiobooks and even movies that you can borrow. Each evening a performance will take place in the show lounge for your entertainment. Each seat in the lounge is well position meaning that everyone can enjoy an unobstructed view of the show.
Wellness & Fitness
There is a variety of services to choose from in the beauty section, such as hairstyling, manicures and pedicures, which are available for both men and women. Relax your body and mind by having a rejuvenating facial or one of the numerous massages. The men's and women's saunas and steam baths are also great destinations after a demanding workout at the gym. You can book a slot for these services while on board, or even before your journey.