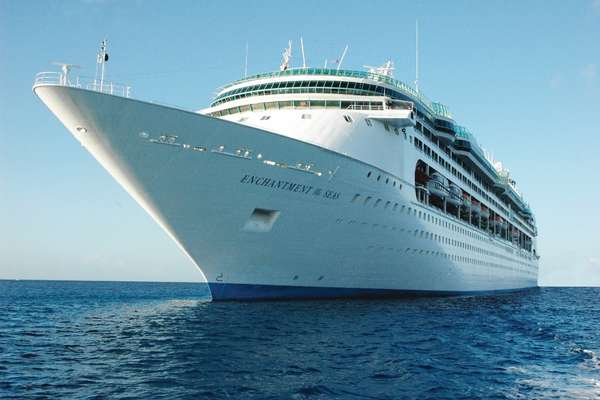 Cabins
Comfort and cosiness take priority on board the Enchantment of the Seas. You`re bound to feel at home in whichever cabin you choose, no matter whether it is an inner, outer or balcony cabin, or a luxurious suite.
Dining Information
Look forward to a delicious culinary adventure on board. No matter whether you're looking for a scrumptious, juicy steak in the Chops Grille or one of the many varying dishes in one of the theme restaurants, you're sure to find something to please your palate. Ben & Jerry's ice cream can be enjoyed by passengers of all ages and you're more than welcome to wind down the evening with a glass of wine or cocktail in the many different bars and lounges.
Entertainment
Feel free to take advantage of the diverse array of entertainment programmes on board the Enchantment of the Seas. Try your luck with a round of poker in the casino, kick back and enjoy the spectacular shows and performances in the theatre or soak in the great ambiance and panoramic views in the many different bars and lounges. You are sure not to get bored!
Wellness and Fitness
Thanks to the ship`s renovation in 2005, you can now enjoy the comforts of its many great new furnishings and accommodations. For example, swim a few laps in the pool on the new, enlarged deck or have fun in the new waterpark. You also have the opportunity to stroll over the suspension bridges, jump on the Bungee Trampoline or enjoy quiet relaxation in the Day Spa. Those looking for something a little more traditional are welcome to power up on the modern exercise machines in the fitness centre. Another highlight on board is the climbing wall, where all who reach the top are rewarded with a stunning view.
Shopping
On board you'll find a photo store, a gift shop with great souvenirs and many other stores offering perfumes, jewellery and much more.
Dress Code
Sporty, casual clothing is recommended by day. Depending on the programme, it's best to pack a choice of casual and business casual clothing, as well as elegant formalwear for special evening events. Sturdy, comfortable footwear is essential for land excursions.