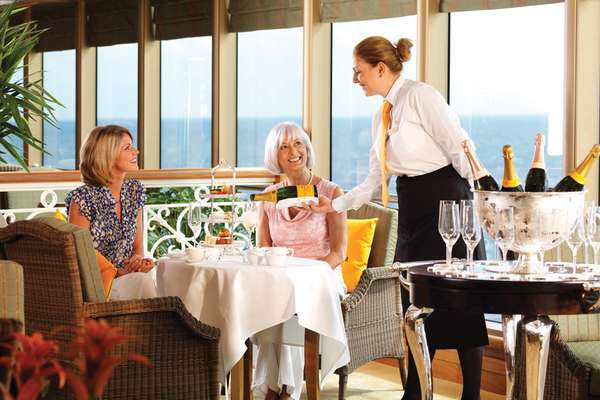 Cabins
The staterooms onboard the Queen Elizabeth are the definition of style, luxury and comfort. All cabins are spacious and contemporary with all the modern amenities you need to make sure your cruise experience is as comfortable as possible. Suites offer the ultimate in luxury with a butler service as well as access to exclusive dining options.
Food & Drinks
The Queen Elizabeth offers a wide range of dining options and a varied selection of cuisines. Choose one of the following elegant restaurants: Queens Grill, Britannia Club, Verandah where the chance to sample some of the finest French cuisine. Or select a more relaxed place to eat: Golden Lion Pub - a traditional English pub with a unique English-style setting; The Lido offers exotic dishes from Asia, Mexico and South America. On board the Queen Elizabeth there are also several bars and lounges for you to relax and enjoy a drink in.
Entertainment
"Country House" Soirées and garden parties are a classic way to enjoy your evening in style with a glass of champagne and good company. Alternatively, head down to the 'Royal Arcade' shopping area and browse the many boutiques offering some of the world's best known brands. Spectacular shows are guaranteed to keep you entertained in the Royal Court Theatre. Take a dip in one of the onboard pools or kick back and relax in the hot tub before heading to the Spa. Children of all ages are well looked after in "The Zone" and "The Play Zone" game areas.
Wellness & Fitness
The Sports Deck offers the chance to work out whilst enjoying the magnificent ocean views. There are numerous open-air pools and jacuzzis, as well as dedicated areas where you can play: boules, tennis, croquet. You are also welcome to use the wide selection of fitness equipment in the modern gym. Learn to Jitterbug or Swing during one of the dance lessons offered as part of a fantastic range of activities on board. A visit to the exclusive Cunard 'Royal Spa' is highly recommended. Enjoy the peace and tranquillity of the spa while being completely pampered. A wide range of luxurious treatments such as aromatherapy massages are available.