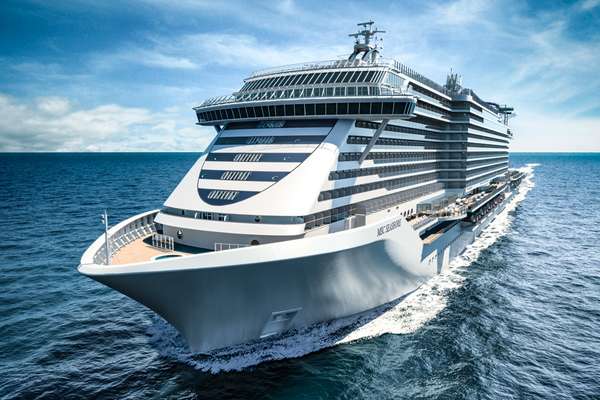 Cabins
The MSC Seashore provides a number of spacious, stylish cabin for every type of cruise experience. Families are accommodated for with connected cabins, which consist of several rooms and can fit up to 10 people! Perfect for keeping everyone together as well as having your own space. The MSC Yacht club is better than ever with incredible balconies, whirlpools and a private terrace for sunbathing. If you decide on an interior or balcony cabin, you can choose between the Bella, Fantasia and Aurea experience, each offering a different set of extras to enjoy during your stay such as 24 hour room service, drinks packages and Spa benefits.
Food & Drinks
Dining on the MSC Seashore is a culinary experience like no other. To start, there are over 10 eateries to choose from, including the Steak House, Sushi Bar and Teppanyaki venue. For a romantic evening head to the Waterfront, where you'll find the ship's specialty restaurants, and you can dine al fresco and watch the beautiful Mediterranean sunset.
Entertainment
For family friendly fun, the water park is the perfect place place to spend the day, especially with the hot Mediterranean sun. The largest water feature at sea, this interactive park is enjoyable for all ages, and a great way for everyone to spend time together! But for days where you need to slow down, the onboard kids clubs are perfect for little ones who are full of energy and ready to make friends. Now you have time for some adult-only activities, you can talk a walk along the Waterfront, have a drink and relax in a lounge, or truly unwind with a treatment in the Spa.
Wellness & Fitness
Take the time to focus on yourself on board the MSC Seashore and spend an afternoon in the Aurea Spa. With a range of revitalizing massages, facials and treatments, you will leave feeling totally rejuvenated and centred, ready to take on the next adventure your journey holds. The Spa also has a beauty salon and nail boutique so you can feel a million dollars heading out for the evening.