Very little says 'I love you' more than gifting you and your loved one an unforgettable couples cruise experience to share and cherish together. It's not a gift you can simply walk down to the shops to purchase, nor is it a gift you can order online in a matter of minutes. A couples cruise will promise you both time to connect whilst doing and seeing the things you enjoy most. Marry this with an opportunity to create precious memories together, and you have found the most magical romantic gesture!
Those who cruise away together stay together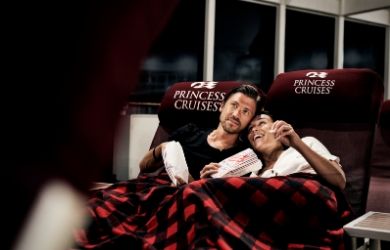 This is why a couples cruise should make it on to your bucket list. With promises of endless adventure, stunning scenery and seascapes, rich cultures and relaxation, romance beckons at every opportunity on board a cruise. Far away from the hustle and bustle and stresses of every day, you're guaranteed to relish special couple moments together when you're at sea.
Regardless of whether your cruise is a special Valentine's Day gift, or whether you're on your honeymoon, celebrating your anniversary, or just seeking a romantic getaway with your partner, you will be swept off your feet from the moment you step on board at your departure port. Let CruiseAway tell you why.
Romance in abundance
Look forward to horizons, sunsets, sophisticated drinks at the bar, exclusive locations, elegant dress codes and more on a couples cruise. Clear skies adorned with breathtaking constellations out at sea will invite you and your loved one to stargaze together from the comforts of the cruise ship's sun deck – or from your own private balcony! Simply browse through the plethora of balcony staterooms and veranda suites on Holland America Line and Celebrity cruise ships.
If you're all about spoiling your partner, you could opt for an owner's suite on board Norwegian cruise ships, for example, where you can expect VIP service during your romantic nights on board: with a butler, speciality dining delivered to your suite, and a private spa entrance. After all, you and your partner deserve to treasure every moment together in the privacy and comforts of your own cabin.
To make your voyage that little bit more special and intimate, you should also consider an adults-only cruise. With the minimum age set at 18 years old, an adults-only cruise is perfect for loved-up couples and parents who are looking for a rejuvenating break away from home. Among the cruise ships that are renowned for offering the best adults-only cruises are Cruise & Maritime Voyages' Magellan, along with the Azamara Quest and Azamara Journey.
Love is in the fare
To eliminate any stress from this all-important couples holiday, you should most definitely opt for an all-inclusive cruise when you book. Simply leave your worries behind at home. Removing any extra costs on board will give you the time and energy to focus on what's really important: making the most of every moment with your loved one. With all-inclusive cruise fares, you can enjoy anything from free drinks, gratuities, Internet and culinary service without paying more upfront at the end of your cruise. So, in short, depending on your package, you and your partner can enjoy refreshing cocktails or beverages at the bar or a romantic candlelit dinner under the open sky – all to your heart's content. To see what's included in a particular cruise, or to inquire about which packages and services are on offer to you, just speak to one of our expert cruise consultants.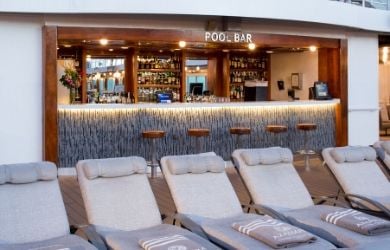 Say 'I do' to spa treatments
More and more couples these days treat their partners to a trip to the spa. It's a popular and appreciated gift for obvious reasons: you can relax and enjoy special, private moments together in each other's presence, and your relationship is infused with the fresh energy it needs to make the most of healthy and relaxed days together. On a cruise, however, the relaxation you will both experience is even more intense and without compare. This is because you are miles and miles away from anything that could stress you out back at home. A visit to the spa on board a cruise ship means that you are at one with peace and you are even more at one with each other. Princess ships will invite you to sit back and relax in their on board Sanctuary – an idyllic outdoors spa retreat where crew will attend to your every need, providing you with light snacks and fresh smoothies.
If you would really like to surprise your significant other with a grand gesture, booking spa treatments on a luxury cruise will truly take their breath away. Heading to the spa on Silversea's cruise ships means embracing stunning seascapes through floor-to-ceiling windows, whirlpools, steam rooms and saunas. Opt for couples treatments offered, such as acupuncture, body wraps, massages and facials. Or, if you're after blissful hot stone massages and seaweed wraps, come aboard the all-new Virgin Voyages fleet and explore the state-of-the-art Redemption Spa.
Roses are red; violets are blue – book a couples cruise and shore excursions for two
Shore excursions and stopovers at romantic hubs in the world's hottest and most romantic destinations are another reason to embark on a couples cruise with your loved one. Whether on a private couples gondola tour on the Canale Grande during a stopover in Venice, experiencing glorious lazy days in picture-perfect Hawaii or making the most of date night in French Polynesia, you will no doubt get goosebumps and butterflies in the presence of your other half. Shore excursions can include anything from city tours and diving trips to culinary experiences, depending on the cruise line. If you know you would like to embark on a unique adventure for two, we recommend you look into booking special cruise packages offered by Oceania that specifically include free shore excursions.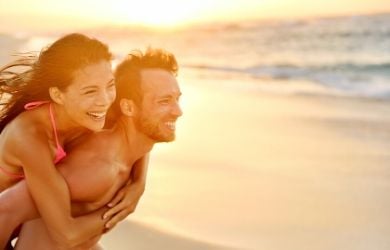 For personalised advice on where to take your loved one on a couples cruise, give our experts a call on 1300 887 590 or browse through our cruise line specials for unmissable deals.