The World Wide Web can be a maze when it comes to tracking down the best holiday tour deals and offers. You could easily spend hours – or even days – struggling to make sense of the tedious multistep booking processes that leave you asking yourself questions. 'How will I get from A to B?', 'Is food included?' or 'Will I receive a surprise bill at the end of my holiday?' 
Well, we'll let you in on a secret to success when it comes to booking holidays. With our cruise tours, we have taken every ounce of stress out of the equation. So, all you need to do is simply focus on your upcoming cruising adventure. Sounds like a win–win, right? That's because it is!
How do cruise tours work?
CruiseAway works with trusted partners who provide you with a multitude of life-changing experiences and extras to couple with your cruise, such as transportation and transfers, airfare to and from your point of departure, on-board activities, and tours around major sights at your cruise destinations. This concept of cruising and incorporating on-shore itineraries in the fare is known as a cruise tour, or a package.
Among these partners are cruise lines, such as Royal Caribbean, Norwegian, MSC and Holland and America Line, as well as specialised tour companies, including Rocky Mountaineer. As a result, CruiseAway is able to offer fine-tuned and tailor-made cruise tours to meet the needs of any keen traveller. Whether you're booking a trip for a special occasion or a cruise tour for the whole family, we can assure you that your trip of a lifetime will be in safe hands. 
As the saying going, the best things come in threes, which is why we have listed three reasons for you to book a cruise tour.
1. Be at one with the local culture
Travelling extends far beyond simply seeing new things. Sightseeing is of course a must when you're in a new place; however, it's far more rewarding to fully immerse yourself in the country and its culture with all five senses (not just sight). Everyday excitement awaits you in India, where a vibrant tapestry of intense aromas, spectacular sights and eye-opening traditions will awaken your spirit of adventure.
Set foot in a land of infinite excitement and exuberance on an MSC cruise tour to India's iconic Golden Triangle, a renowned tourist route connecting Delhi, Agra and Jaipur by road and rail. With tours of up to six nights in duration, you're guaranteed the perfect introduction to this immense and fascinating nation! Not only that, but your flights, hotels, tours and extras are often already included in the fare.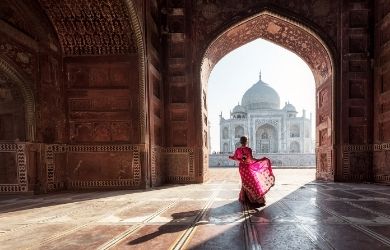 Meander through diverse rural landscapes and buzzing urban hubs on the journey of a lifetime. Chase breathtaking sunsets over the Taj Mahal, a UNESCO World Heritage Site. Soak up the sound of charming Indian rhythms filling the air as you stroll through aromatic markets at your own pace. The intensity and brilliance of the colours and flavours that make up India's varied culture almost feels like an assault on the senses – it really is that unique and powerful!
Insider tip: 
While there is no official dress code at the Taj Mahal, remember to wear modest clothing. On a more fun note, however, make sure you wear something colourful to contrast the white marble of this iconic landmark! That's how award-winning photographs are born!
2. Get front-row seats to nature's spectacles
'A picture says a thousand words'. We all know the saying. But travelling is more than taking pictures and selfies (although we all do appreciate a good selfie). If you really want to get a taste of the local zest for life, you need to connect with your surroundings and the local people. And a cruise tour will offer you the perfect opportunity to do so.
A region is very often defined by its unique and indigenous wildlife. People from far and wide come especially to Australia to encounter koalas, kangaroos and our other beloved animals in their natural habitat. So, why not venture to South Africa on a Cruise & Tour package, including hotels, flights and more? Navigate exhilarating passages of adventure on a game drive in Kruger National Park, and come face to face with the renowned big five in action: the African elephant, rhinoceros, buffalo, lion and leopard.
Make the most of your South African adventure and opt for a package that also includes overnight stays in hotels across South Africa, in cities and towns such as Johannesburg, Cape Town, Durban and Hazyview. We just can't emphasise enough how enriching an experience like this is – and to simultaneously spend time with your family and loved ones makes for magical moments that will be treasured for a lifetime.
Insider tip:
Try to plan your trip around April, when you're more likely to spot Kruger National Park's baby animals out in full force!
3. Escape the city on a rail & sail journey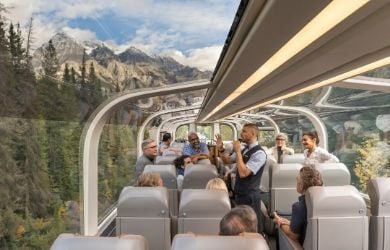 We can perhaps all agree that, while city tours reward you with rich culture and action-packed itineraries, they take you right to the heart of busy and buzzing urban spaces. Sometimes, it's therefore only natural to want to escape the hustle and bustle of city life and retreat to the serene silence of the wilderness.
Combine your cruise to Alaska or Vancouver with a Rocky Mountaineer luxury train journey. These unique rail adventures run from April to October and are a quintessential way for you to explore breathtakingly spectacular locations that are otherwise difficult to reach. And what better way is there to enjoy the scenery than from the comfort of a reclining plush chair? Expect itineraries boasting stopovers at picture-perfect locations: luscious green forests, sparkling glacial lakes and rocky ravines.
Why opt for a Rocky Mountaineer rail package?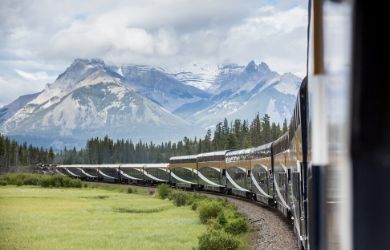 Discover Canadian gems through award-winning glass-dome coaches and outdoor viewing platforms

Visit national parks around the Rocky Mountains, including Lake Louise and Banff

Witness classic Canadian wildlife up-close, such as moose, elk, bears and soaring eagles

Sample top-class cuisine, with Canadian breakfasts and three-course lunches

Look forward to complimentary beverages on board
Opt for guided hiking tours or panoramic helicopter tours
Rocky Mountaineer's hosts will ensure you immerse yourself fully in memorable rail adventures from start to finish, sharing thrilling stories and historical insights into the picturesque sights and scenes you will pass along your route. 
Insider tip:
Try classic Canadian delicacies whilst en route: Pacific salmon and Alberta beef are the order of the day!
Rest assured, our locally based cruise experts are here to help you find the perfect cruise tour. For more assistance, call 1300 887 590 and get your adventure under way!