Christmas songs have well and truly descended upon us, and that can only mean one thing: the annual countdown to Christmas is now well under way! With lyrics like 'walking in a winter wonderland' and 'dashing through the snow' echoing non-stop inside our heads during the winter season, it's only human to want to get in on some of that snow-filled winter action. So scrap the summer sun, seek the snow and cruise to these five dreamy winter wonderlands instead! Check out these top destinations for winter cruises this season.
Our top tips for winter cruises
1. Alaska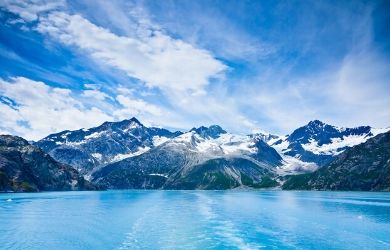 When it comes to snow, there's no place that does it quite like Alaska. Heavily decorated with its arctic glaciers, abundant coniferous forests and crystal-clear lakes, it certainly stands as one of the most breathtaking destinations you will cruise to this winter. It also boasts a wide variety of flora and fauna, with Kodiak Island being home to one of the largest species of bear in the world. Besides the multitude of picturesque panoramas this destination has to offer, Alaska is widely renowned for its historic and cultural towns, such as Skagway, Anchorage and Juneau. You can even opt to cruise to Alaska from many popular destinations, including the vibrant and lively Canadian metropolis of Vancouver. Browse through a range of cruise lines that are heading for the snowy peaks of Alaska this season, such as Princess Cruises and Celebrity Cruises.
2. Norway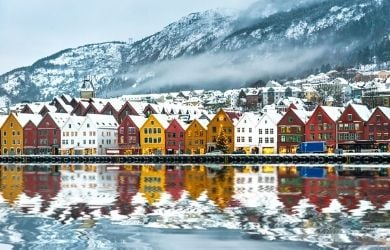 You're sure to set foot in a winter wonderland of frosted-over fjords and mystical mountain landscapes in Norway, as snow is usually forecast during the winter months in destinations such as Bergen or Oslo. Naturally, the further north you venture – for example, to Svalbard – the more likely you are to spend some days in thrilling mother nature. If that's not enough to entice you to the north, just remember that you might also catch a glimpse of the world-famous Northern Lights if you time your trip right: they are more commonly seen between late September and late March, when Norway is at its darkest. Popular cruises to Norway include those leaving from Southampton, Copenhagen and Amsterdam, so you may even be able to squeeze in a quick city trip prior to your winter cruise. Check out Royal Caribbean and Holland America Line cruises sailing to this Scandinavian 'hotspot' this winter.
3. Iceland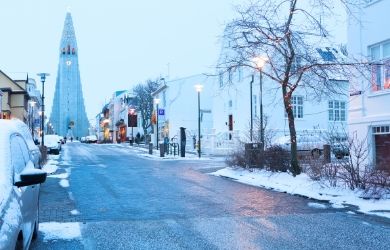 Welcome winter with the four elements – fire, ice, water and earth – and cruise towards the shores of dramatic Iceland. Adorned with rugged cliffs, geysers and hot springs giving landscapes a truly mystical feel, there are many aspects to this humble and diverse land. Snow is pretty much guaranteed – especially in the more northern parts of the country. However, don't let this nation's name scare you off! While a winter coat should definitely make it into your suitcase, temperatures in Iceland are not as alarming as you might expect. Temperatures tend to hover around freezing point in winter in more southerly regions, such as the island's capital, Reykjavik, which is also home to the luxurious and widely known Blue Lagoon. Revive your spirit for wintry adventures in the new year and book an Iceland getaway with cruise lines stopping over in popular destinations, such as Reykjavik, Heimaey and Seydisfjordur.
4. Finland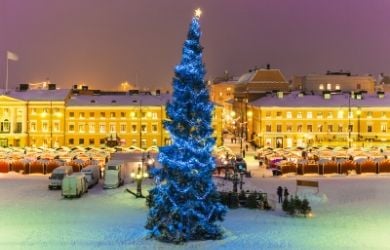 For stunning Scandinavian scenery – and for your best chance to find some snow –  Finland ought to be on your winter destinations bucket list. Out of northern Europe, Finland is most likely to see the first flakes of the season already in November. Christmas markets and celebrations are in full flight around this time across many beautiful cities such as Helsinki, and usually by around this time of year, towns and cities are tucked under a soft blanket of snow, just in time for Father Christmas! Arctic adventures are closer than you think – with just a click, you can check out Baltic Sea or Northern Europe cruises that include a stopover in Helsinki.
5. Tallinn, Estonia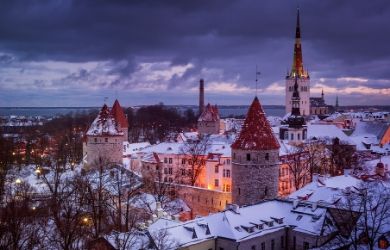 Say tere to the coldest season of the year when you pay a visit to Estonia's capital, Tallinn, home to one of the most impressive Christmas markets in the world. Did you know that Tallinn was even named the European Capital of Culture back in 2011? It's no wonder that this enchanting city is currently one of the upcoming and trending destinations in Europe. With its unmistakable medieval charm and pretty cobblestone streets flooded with strings of decorative lights, you are sure to fall in love with this magical and modern-day winter metropolis at Christmastime. Visit Estonia this Christmas for that once-in-a-lifetime getaway on a Princess or Royal Caribbean cruise.
So, there you have it – our top-five destinations where you are sure to celebrate snow in style! Conjure up some inspiration for your next winter voyage by browsing through our wide range of must-see destinations – there's no time like the present!