A big selling point when it comes to cruises is that a lot is already included in the cruise fare – such as meals, entertainment and on-board amenities. CruiseAway also packages up many cruises with flights, tours and hotel stays to make it an effortless and hassle-free holiday. But why stop there? Take that one step further, to bottomless champagne, to James Bond tuxedos and Michelin-star cuisine. Imagine a crew that knows you by your name, by your go-to cocktail. Think big; think panoramic views from private balconies. Think unparalleled state-of-the-art facilities. You name it and chances are most luxury cruise ships will have it. 'Lujo', 'Luxus', 'lusso', 'luxe' – you don't need to be a linguist to understand that luxury is a pretty universal concept. We all have similar expectations of luxury – but these will certainly be surpassed looking at these top-of-the-range luxury cruise ships.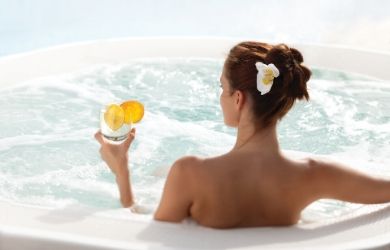 Luxury cruise ships: the A-list
Regent Seven Seas Cruises: Seven Seas Explorer
A well-travelled cruise ship that is definitely at the top of its game, the Seven Seas Explorer boasts private balconies on each of its elaborately furnished suites on board. The ship's interior is even adorned with fine art by world-renowned Spanish artist Pablo Picasso. With grand cascading stairwells and impressive chandeliers, each and every inch on board exudes high-end exclusivity.
Destinations: New Zealand, Australia, Alaska & West Canada, North America, Northern Europe, Norwegian Fjords
Top-three highlights:
Private balconies and walk-in closet for each suite

Infinity-Edge Plunge Pool

Culinary Arts Kitchen – cooking classes from culinary masters
Crew-to-passenger ratio: 552 : 750
Dress code:
During the day: Think casual – blouses, capris, dresses and skirts for women and shorts, jeans, T-shirts and polo shirts for men. No shorts, trainers, jeans, T-shirts or baseball caps are to be worn in public spaces after 6 p.m.
Dining in the evening: The key word here is 'elegant', so men should pack formal trousers and collared shirts, and ladies are encouraged to dress up in skirts, blouses, pantsuits and dresses. 
For optional formal nights (for cruises more than two weeks in length): Dazzle in your gowns, cocktail dresses, tuxedos and dinner jackets.
Oceania Cruises: Nautica
A part of the Regatta Class of Oceania ships, Nautica is the last in its class, succeeding Insignia, Regatta and Sirena, to undergo a re-inspiration process, making it a completely redesigned ship as of June 2020. Featuring brand new surfaces (some marble!) in every suite and stateroom, a refreshed colour palette, renewed fabrics and furnishings and bejewelled new chandeliers in several spaces, the transformation will bring another level of luxury to Nautica. Not only will you be able to savour the world with "The Finest Cuisine at Sea™", you will soon be able to do savour the world on one of the most luxurious cruise ships.
Destinations: Africa, Asia, Mediterranean, Northern Europe, Grand Voyages
Top-three highlights:
Revitalised suites and staterooms feature exclusive Ultra Tranquility Beds, 24-hour Butler service in suites and Bulgari amenities

Aquamar Spa + Vitality Center with plant-based menus, wellness presentations and thalassotherapy pool or whirlpools

"The Finest Cuisine at Sea™", sourcing the world's finest and freshest artisanal ingredients
Crew-to-passenger ratio: 400 : 684
Dress code:
During the day: Country club casual. Be yourself wearing relaxed and comfortable attire, such as chino shorts and linen shirts.
Dining in the evening: An elegant, yet casual dress-code applies to evening dining. No need to hire a tuxedo or gown for dining on Nautica.
New luxury cruise ships 
*ARRIVING MID 2020* Silversea: Silver Origin
Deemed the most elegant and environmentally conscious cruise ship to ever sail around the Galapagos, the Silver Origin is already guaranteed to surpass expectations set by its luxurious counterparts. And it hasn't even started sailing yet – a testament to the pure innovation and forward-thinking design that characterise this spectacular ship!
Destination: Galapagos Islands
Top-three highlights:
Ecuadorian national expert guides for the islands

Ocean-view bathtub

Eight Zodiacs for expedition experiences
Crew-to-passenger ratio: 90 : 100 (highest ratio in the Galapagos)
Dress code:
During the day: Men should pack casual clothing (no jeans) and a sports shirt; ladies can bring along trousers, blouses, a sundress or a pantsuit. Heels are not advised on board.
Casual evenings: Think trousers, blouses, skirts and casual dresses for ladies and open-neck shirts and trousers for men.
Informal evenings: Ladies, bring your dresses and pantsuits; men, get your best jackets ready.
Formal evenings: Go for glamour in your most elegant cocktail dress or evening gown – or if you're a man, in your tuxedo or dinner jacket. Don't forget your tie!
*ARRIVING JUNE 2021* Seabourn: Seabourn Venture
Indulge yourself in private yacht vibes on the Seabourn Venture, part of the ultra-luxury Seaborn Cruises fleet released in 2019. With only Oceanfront Veranda Suites, custom-built submarines and technology that meets PC6 Polar Class environmental standards, you might just start feeling like an A-lister who's made it in life.
Destinations: Arctic, Antarctica, Amazon, Caribbean, Central and South America, Northern Europe
Top-three highlights:
Onboard crew comprising well-travelled expedition experts, scientists, historians, naturalists

In-Suite dining in your own suite

24 Zodiacs for expedition experiences
Crew-to-passenger ratio: 120 : 264
Dress code:
During the day: Go for anything you feel comfortable in, so jeans and shorts. After 6 p.m., men are expected to wear trousers with a collared shirt and women can opt for trousers or a skirt with a blouse, or a dress.
Informal evenings: Some dining locations are more casual and do not follow a strictly formal dress code.
Formal evenings (on longer cruises): Dress to impress in a tuxedo, suit – or, for ladies, in your most elegant evening gown.
Rest assured there's absolutely no doubt that these cruise ships are true trailblazers when it comes to setting cruising standards. And to think you're only a click or phone call away from living the high life on the high seas. Be the VIP you've always wanted to be; book yourself onto one of our luxury cruises today!