It's no wonder that more and more couples choose to set sail together across the seven seas: In addition to offering itineraries that lead to paradise beaches and incredible destinations, cruises offer a great value for money and eliminate hotel, transportation or food costs.
After months of stress with the wedding preparations, nothings better than a practical, economical and romantic trip to recharge your energy and celebrate this special moment for two! Follow the tips from the CruiseAway travel portal to get the most out of what cruises offer for the honeymoon of your dreams.
1 – Choose a cruise company compatible with your profile
Going on a cruise full of kids or embarking on a trip dedicated to old age, when it was not exactly what you expected from your cruise, it could be a cold water shower on the much-desired ocean cruise honeymoon. The atmosphere on board will be crucial to the success of your trip, so it is important to choose a cruise line that matches the profile of you.
Luxury companies like Azamara, Crystal Cruises, Celebrity Cruises and Silversea usually offer a unique onboard experience and an intimate atmosphere. If you are looking for an even more personalised experience, SeaDream and Windstar have spectacular fleets of luxury yachts, which thanks to reduced sizes offer more privacy on board.
If the honeymoon of your dreams has a festive and relaxed atmosphere, bet on Carnival, Royal Caribbean or Norwegian Cruise Line cruises. If you're after a little Italian flavour, then MSC are renowned for their family atmosphere.
For those who do not give up the fun, even on the honeymoon, Disney Cruise Line offers cruises as suitable for adults as well as for children, they have swimming pools, restaurants and exclusive clubs for adults.
2 – Bet on exotic destinations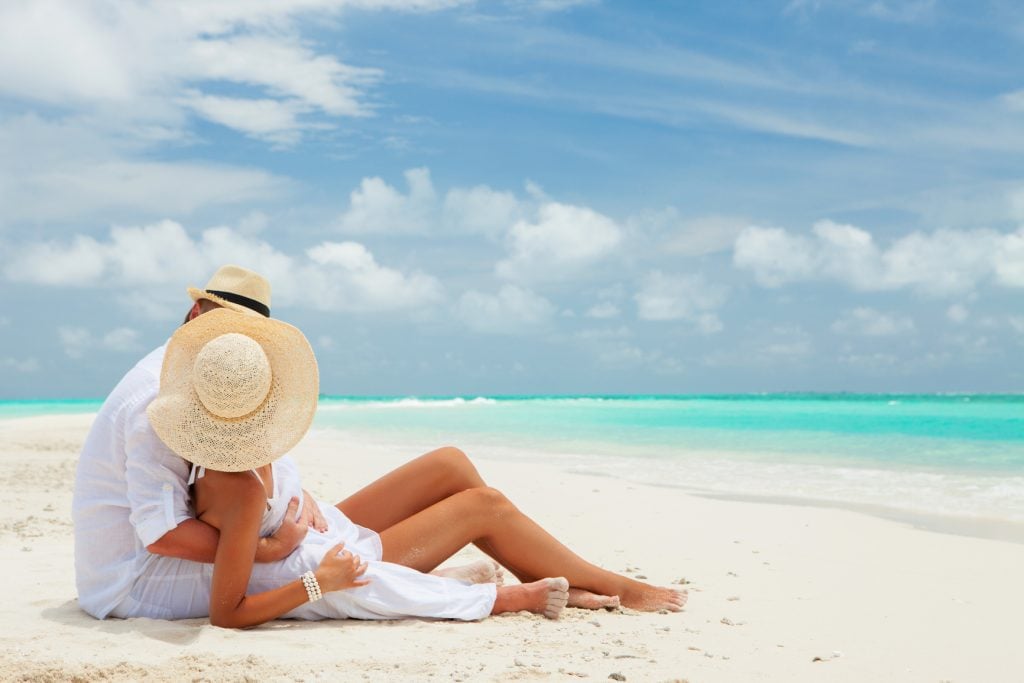 The less popular the destination, the more privacy you will find in the ports of call. As incredible as the beaches of the Caribbean are all year round, traveling the region in high season (from December to April) is almost always synonymous with crowded beaches. Consider choosing a destination less disputed and no less heavenly, such as Seychelles, Maldives, Fiji and French Polynesia.
3 – Choose a ship with areas exclusively for adults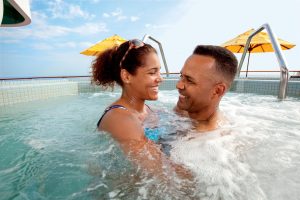 To provide even more romanticism on board, many companies offer exclusive areas for adults, where under 21 do not have access. If you want to avoid being hampered by pools filled with children or groups of singles in party mood, just seek refuge in the "adult-only" areas and enjoy yourself on your own private yacht.
Some of these spaces include, Carnival's Serenity, Princess Cruises' The Sanctuary, Disney's Cruise Line Quiet Cove Pool, Norwegian Cruise Line's Spice H20, Royal Caribbean's The Solarium and MSC's Top 18. The luxury company SeaDream goes further and offers the possibility to book a bed on the outside deck and sleep under the starlight!
4 – Book a Romantic Package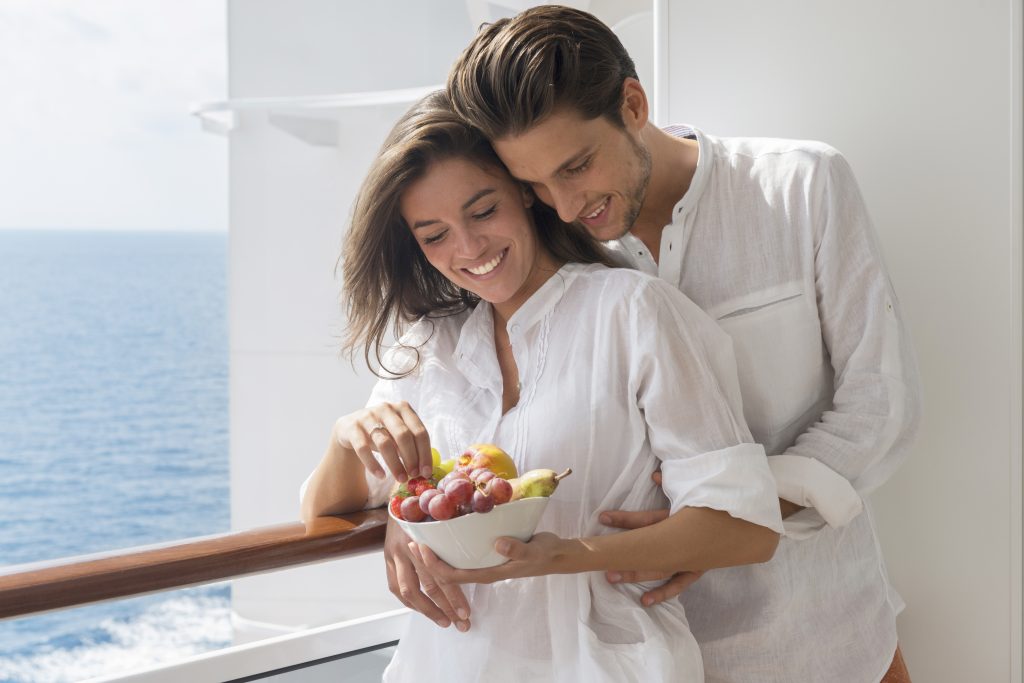 How about surprising your partner with a cabin full of flowers, chocolate truffles and champagne? Small treats like this are offered by the cruise companies to make your honeymoon cruise even more romantic. These packages can be booked in advance during online check-in or even after boarding the ship itself.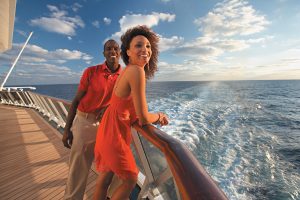 5 – Choose a ship with flexible dinners
Most cruise companies organise dinners in the main restaurant in two fixed shifts: each couple is assigned to one of the shifts, sitting at tables shared with other passengers. Although this system provides an excellent opportunity to meet other travellers, it is possible that during your honeymoon you prefer to prioritise dinners for two. So, make sure your chosen vessel offers flexible dinners, where you can choose when and with whom you wish to dine.
The pioneers in introducing this concept were Princess Cruises (Anytime Dining) and Norwegian Cruise Line (Freestyle Dining). Other companies that currently offer the flexible dining system are Carnival (Your Time Dining), Holland America Line (As You Wish Dining), Royal Caribbean (My Time Dining) and Celebrity Cruises (Celebrity Select Dining).
6 – Replace wedding gifts with extras on the cruise
Royal Caribbean, Carnival, Princess Cruises, Disney Cruise Line and Norwegian offer an incredible system called Honeymoon Wishes, which allows your wedding guests to choose gifts that will make their honeymoon trip even more special. Grooms can pre-select items they wish to earn as a gift, such as shore excursions, casino credit, premium beverage packages, dinner in a specialty restaurant, massages and spa treatments. Then the guests can access the list online and choose what they wish to give.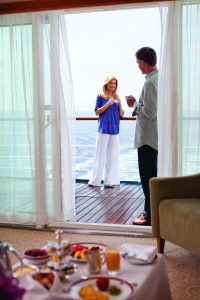 7 – Choose a cabin with balcony
While there are charming little spots scattered around ships for two people to enjoy, there will be moments during the honeymoon that you will wish a private balcony. When choosing a cabin with a balcony, you can enjoy breakfast in the comfort of your room or have a drink during the sunset with incredible views and total privacy. The AmaWaterways cruise company, for example, has introduced a new concept of double porches that has revolutionised the market and has become the dream cabin of every cruise ship who cherishes romanticism on board.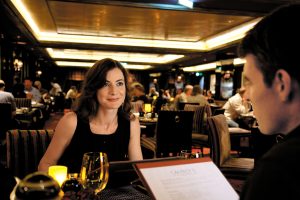 8 – Book a special dinner
Large cruise ships offer numerous specialty dining options for those who wish to try a basic meal included in the rate. And some companies do well in this regard. This is the case of Silvesea, which introduced the first (and still unique) restaurants with the Relais & Châteaux seal on the high seas. Other companies like Azamara, Princess, Carnival and Royal Caribbean offer super exclusive dinners named Chef's Table, where a wine-tasting menu is prepared especially for limited groups.
9 – Tell the crew that you are on honeymoon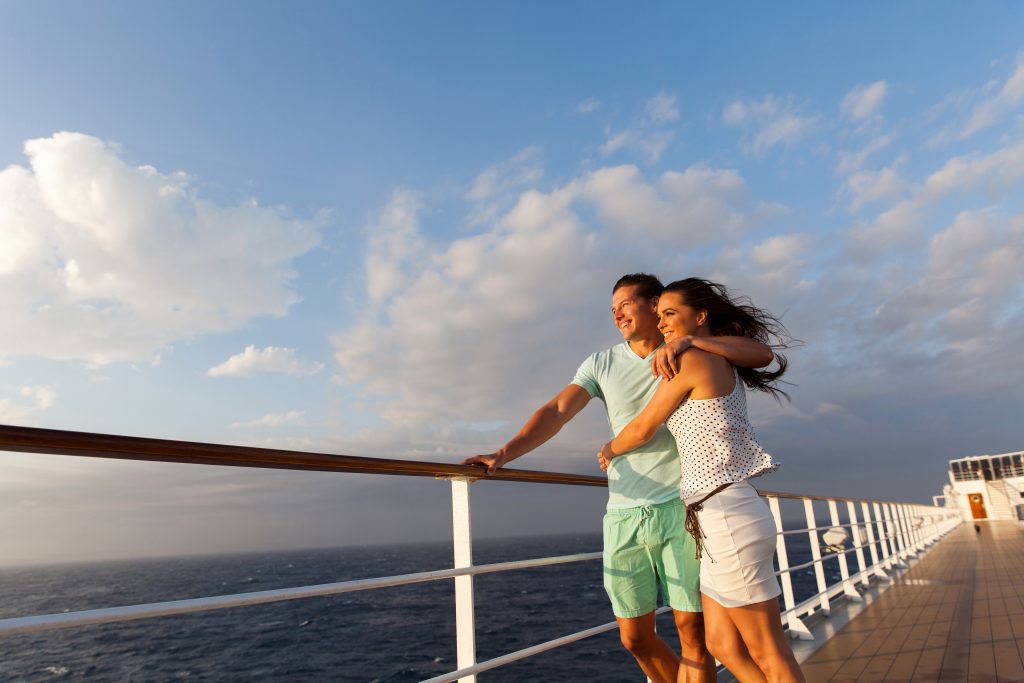 If the crew in charge of your cabin and the waiters at the restaurants know that you are on a honeymoon, it is quite likely that you will end up getting little treats and surprises during your cruise. Maybe a bottle of champagne or a card signed by the captain are waiting in your cabin? In addition, the crew will work hard to ensure that your cruise is as romantic as possible. The Disney Cruise Line even offers badges so you can show your newlywed's status while you are traveling aboard! Also, Carnival promotes a fun nightly Q & A show especially dedicated to newlyweds, where you can win prizes and even credits on board.
10 – And why not … marry again on board!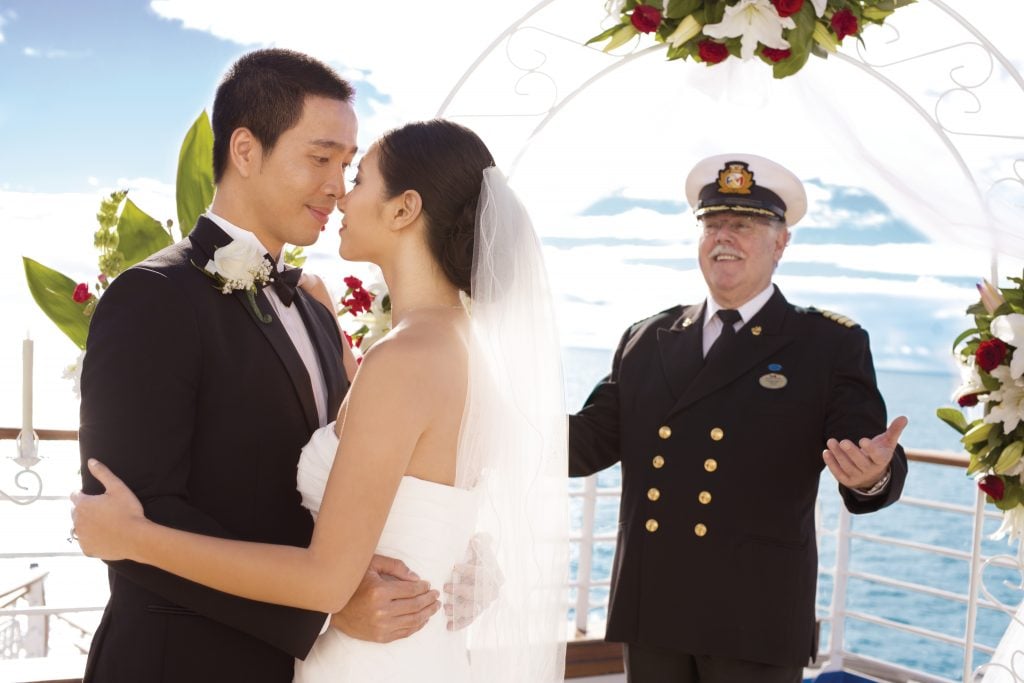 Cruise lines offer the possibility of officiating a wedding on the high seas aboard one of their dazzling ocean liners. The couple who exchange alliances on board can opt for packages that usually include bouquet, champagne, cake, photographer, consulting and private space decorated for the ceremony, held in the presence of the captain of the ship.