The Norwegian Joy has just completed an incredible $50 million renovation and has recently finished two exclusive inaugural preview cruises before her first official sailing out of Seattle to Alaska on May 4, 2019.
Since the renovation, Norwegian Joy is very similar to Norwegian Bliss. The ship includes an onboard go-kart track, open-air laser tag arena and the Galaxy Pavilion, a virtual reality and gaming venue, a range of new dining and bar venues and a revamped pool deck!
CruiseAway Product Manager, Bernadette Holmes was lucky enough to be invited onboard Norweg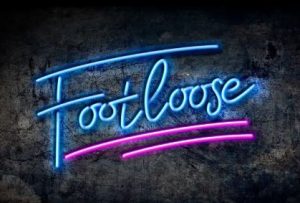 ian Joy for her first preview cruise from Vancouver to Los Angeles. So, what's changed onboard Norwegian's second Breakaway-Plus class ship?  Let's find out!
For the first time at sea, guests will be able to experience the remarkable spectacle of the Tony Award® nominated Footloose the Musical!
This stage edition of the classic movie musical tells the story of a Chicago teen, Ren McCormack, who moves to a small midwestern town and finds that a local preacher has banned rock music and dancing.
If there's one thing you don't want to miss while sailing onboard Norwegian Joy, it's this incredibly feel-good show!
When Norwegian Joy was initially constructed for the Asian markets, there was a large garden area in the middle of it. Since its refurbishment this space now has plenty of space for family's or if you just want to find a deck chair to sit and soak up the sun
Again, when the ship was originally built for the Asian market it boasted four large Casino's throughout. Now, there is just the one Casino on Deck 7 leaving more space for a variety of fantastic new restaurant and bars!
The Haven is even more Relaxing
The Haven is a luxurious VIP space onboard all Norwegian ships. Guests who book a Haven room get access to a private sundeck, lounge, restaurant and concierge service. Each room also comes with a 24-hour butler!
Guests of The Haven will witness stunning views from the new two story 18
0-degree lounge, perfect for taking in the stunning views of Alaska! Not only that, they can relax in the new Library which has replaced the former Haven Casino.
Norwegian Cruise Line is known for its "Anytime Dining" policy which means that guests can eat where they like when the like.
The ship offers three main dining rooms, a buffet, a 24 hour pub and nine speciality dining restaurants including Food Republic (sushi/tapas), Cagney's Steakhouse, Ocean Blue (seafood), La Cucina (Italian), Le Bistro (French), Q (Texas BBQ), Teppanyaki (Japanese hibachi), American Diner and, of course, Starbucks.
On top of these dining options guests can enjoy a relaxing cocktail in one of the 17 bar areas onboard the ship, it doesn't get much better than that!
Find your place in the Sun or under the Stars at the Waterfront, the wrap around ocean-front promenade.
Whether you want to watch the sunset and have a glass of wine with friends or dine at one of the fantastic restaurants Alfresco style, the Waterfront is the place to be!
If you're looking to entertain the whole family, Norwegian Joy boasts a number of fun activities that can be enjoyed by all.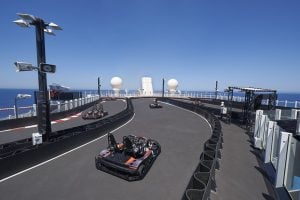 The Speedway is by far the biggest standout! This two-level track is designed for speed, and drivers take full advantage, zipping around on top of the cruise ship.
Get ready for a laser tag battle of galactic proportions under the stars with Norwegian Joy's Laser Tag or step into the Galaxy Pavilion and into a virtual world unlike anything you've ever seen and enjoy an immersive gameplay experience during Dark Ride 7D.
Norwegian Joy is sailing Alaska for her Summer Season until 5 October 2019, she will then commence her relocation voyage back to Los Angeles cruising the Panama Canal. You will also find her sailing the Mexican Riviera in 2020! Find out more about where Norwegian Joy is sailing HERE!
Whatever it is you're looking for, Norwegian Joy has something for everyone.