After two years in the making, Celebrity Edge made her much-anticipated debut in Southampton this month ahead of her European Summer Season.
Celebrity Edge is the first of four Edge-class ships and creates a new standard in luxury cruising. A sister ship, Celebrity Apex will be launched in spring 2020 for a season in the Mediterranean.
CruiseAway's Managing Director, Alastair Fernie was lucky enough to be among a group of VIP's invited on a two-day taster cruise aboard the $1 billion ship and is excited to give us an overview of what has been dubbed "the future of cruising".
Let's delve into the Celebrity Edge highlights!
The Breathtaking Grand Plaza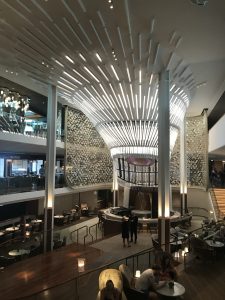 Home to an array of world-class specialty restaurants, along with the popular Martini Bar, Café al Bacio, and the new Grand Plaza Café, Alastair says the stunning three-story venue is inspired by the piazzas of Italy and is "the ultimate gathering place onboard Celebrity Edge and a buzzing evening venue with dancing and live bands".
With a total of 29 restaurants, cafes, bars and lounges, Celebrity Edge delivers a true taste of international cuisine. It boasts four main restaurants replacing the traditional one main a la carte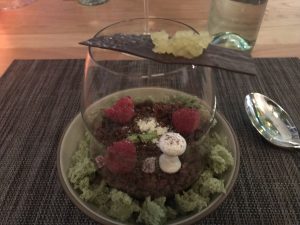 dining room, plus a whole host of specialty and complimentary dining options.
Alastair dined in the Fine Cut Steakhouse and Raw on 5 Japanese restaurants. "Fine Cut was the quintessential American Steakhouse experience with excellent steak, beautiful paired wines, all the sides you would expect and to die for desserts. Raw on 5 offered exquisite Japanese food and our waiter took the ordering in his hands, serving the best of the menu alongside beautifully matched wines."
A Luxurious Sanctuary for the Modern Traveler
Whether you want to clear your mind, fine-tune your body, reinvigorate your spirit—The Kelly Hoppen-designed spa on Celebrity Edge is an unparalleled escape. "The nature-inspired Spa includes a bigger range of spa, beauty, and fitness facilities than any other ship I have been on – like many aspects of this ship, it takes the Spa and fitness experience to a new level", Alastair said.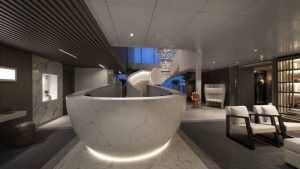 Entertainment surrounds you at every turn aboard Celebrity Edge, making your vacation an unforgettable adventure at every moment of the journey. Engaging, visionary performances from exclusive brand partnerships and award-winning productions blend seamlessly with innovative design throughout Celebrity Edge to bring you the best entertainment at sea—and beyond. The Edge features the debut of two new shows which again are a must-see!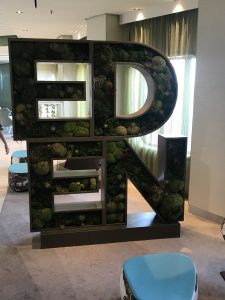 like so many aspects of Celebrity Edge, Eden represents another revolution in modern luxury cruising. It's a lofty multi-deck space overlooking the wakes of the ship that offers many uses depending on the time of the day. From quite space for a coffee and to read a book to experiential dining being entertained by "Edenist" performers at night – it's like a similar space on the Ovation Class of Royal Caribbean sips but then again very different. And no two visits to Eden are ever the same!
Alastair enjoyed dinner in Eden and remarked "the cuisine and service is exceptional and unusual at the same time – an experience in sync with the other-world environment – another must do"!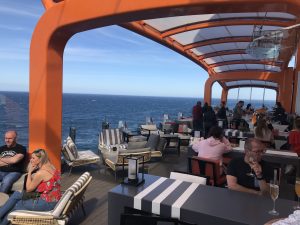 A remarkable feature of the exterior of Celebrity Edge is the Magic Carpet, an extraordinary venue that changes mood, function, and even its location. This incredible engineering feat is the world's first cantilevered, floating platform that reaches heights of 13 stories above sea level. The platform serves as a tender boarding dock whilst in port and a bar and music venue during sea days and in the evening. The Magic Carpet can also provide an open deck extension of Raw on 5 Japanese restaurant offering an exceptional dinner at sea.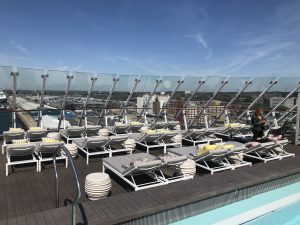 The Pool Deck has been reimagined into a striking asymmetrical space with a distinct resort-style atmosphere. High-ceilinged cabanas that face out to sea for private retreats, two-story martini hot tubs and in-pool loungers complete the picture alongside a 25-yard lap pool, the largest in the fleet.
Rooftop Garden
The unique Rooftop Garden is full of unexpected pleasures day and night. Drift away to the rhythm of live musical performances coming down to you from treetop sculptures. Get caught up in a friendly game of giant chess. Catch a movie at A Taste of Film for an interactive fusion of food and film or enjoy lunch or dinner in the Grill restaurant. Your imagination is your guide in this fantastic garden escape.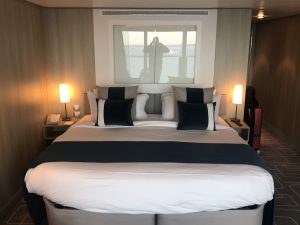 Another stand out for Celebrity Edge is its wide selection of suites. Alastair was lucky enough to stay in one of 146 Sky Suites. "the space, comfort and amenities of the Suite Class set them apart from normal suite accommodation on other ships".
There are also three larger suite categories however the real highlight are the six duplex Edge Villas and the 2 Iconic Suites. The villas have a dining room and lounge downstairs and a bedroom upstairs plus plunge pool on the balcony. The two 176sq.m. Iconic Suite on top of the Bridge are big enough to live in full-time!
Included in the suite class fare is access to The Retreat; a private restaurant, lounge and sundeck reserved exclusively for suite guests. Although there is a similar feature on Solstice Class ships, this facility sets the bar higher again – it's so good you won't want to leave!
In a final word, Alastair's summary: "Celebrity Edge truly sets a new standard in modern luxury cruising offering something that has no equal in the world of cruising. I was only able to scratch the surface in the 2 days on board and am keen to get back on board for a proper cruise!"
Celebrity Edge will spend summer 2019 in Europe and winter in the Caribbean, check out all of the Celebrity Edge sailings HERE