P&O Introduces Pacific Explorer, the new flagship of the fleet  – See what the CruiseAway team thought of the new ship
Click here to see our recommendation on the best Pacific Explorer cruises!
P&O have certainly set a new standard with their newest ship – Pacific Explorer.
Pacific Explorer has operated as the Dawn Princess for many years and was handed over to sister cruise line P&O only a couple of months ago. She has gone through a full refurbishment and looks sparkling new with a wonderful new livery featuring the Southern Cross on the bow.
CruiseAway were honoured to be guests on the recent "shakedown cruise" before the ship went into service and got a taste of what delights this new ship has to offer Australian cruisers.
TO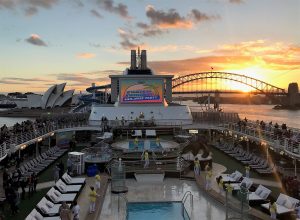 P DECK – A WORLD OF FUN!
Given the Explorer will spend a lot of time in the South Pacific she has been fitted with an array of outdoor activities on the top decks that will keep the whole family happy.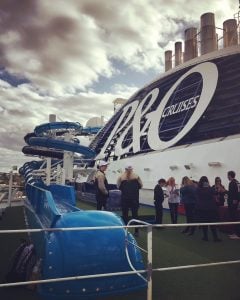 The most noticeable is the dual waterslides perched at the back of the top deck. This is no ordinary slide – you jump into a watery spiral of music and lights before being ejected on the deck 30 seconds later – great fun for young and old! Next to the slides is a water park for smaller kids with dumping buckets and water pistols. On theme with the adrenaline pumping action, Explorer also has the Adventure Park featuring rock climbing, a Zip Line over the pool deck and a Walk the Plank experience over the side of the ship (if you dare!) And the kids club facilities are all on the pool deck making it easy for the kids to roam between the two.
For those of you looking for more refined activity there is barefoot bowls! Overlooking the wake of the ship and surrounded by wrought iron furniture this is a lovely way to spend a sea day – even if you just watch other people have a go! We also loved the adults only Oasis. Also located at the back of the upper decks you can enjoy your own bar and pool with luxury deck-chairs and table service – very decadent!
Oh and we can't forget the new big screen overlooking the pool! Great for creating energy for the sail-away party that P&O are famous for or watching movies in the evening on a balmy South Pacific evening!
WHAT TO EAT? – YOU'LL BE SPOILED FOR CHOICE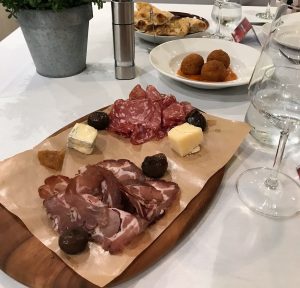 Let's admit it, food plays a big part in the cruise experience and Explorer brings a wealth of choice! There are 2 new speciality restaurants which, along with the Waterfront restaurant, are complimentary! Angelo's for classic Italian and Dragon Lady for Pan-Asian cuisine. For casual dining Explorer offers the new Pantry concept that debuted on the new P&O ships a couple of years ago. We tried this venue for lunch and had great fun sampling all 9 different food stations! All were great quality.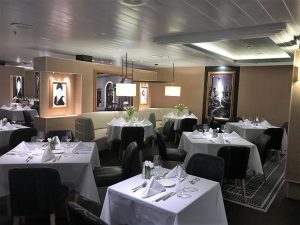 Explorer also offers a couple of new specialty dining options for a modest fee. 400 Gradi occupies the same area as the Pizzeria on Dawn Princess but has taken the pizza experience to the next level. Award winning chef Johnny Di Francesco oversees a choice of anti-pasta, pizza, pasta and dolce that is well worth making a booking for.
Luke Mangans' Salt restaurant that is so popular on other P&O ships is still represented, but this time in a 7-course degustation experience which is located in an exclusive part of the Waterfront restaurant. And  Luke's presence continues in Luke's al alfresco outlet overlooking the pool serving gourmet burgers.
ENTERTAINMENT – SOMETHING FOR EVERYONE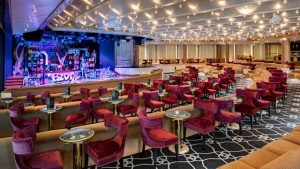 In addition to new stage shows in the main theatre, Explorer features a new show lounge called Black Circus. We went to a new adult burlesque show there that was very unusual and a compete break from tradition for P&O!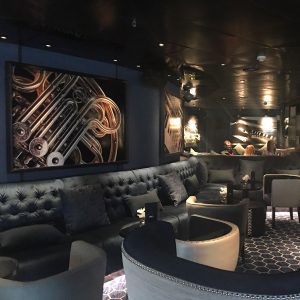 We also loved the Blue Room. A great spot for live jazz during the evening, the Blue Room turns into a cool night club later at night and was rocking to the early hours when we were on board!
Explorer also features some great new bar concepts and we tried to sample them all! The Explorer Hotel captures a tropical feel and offers live music and a dance floor in the evening. The Bonded Store is a really cool bar for people who like a good range of spirits and creative cocktails. And Charlies Bar overlooks the main atrium where you can watch the world go by with coffee or a cocktail.
YOU'LL NEED TO SLEEP AT SOME POINT!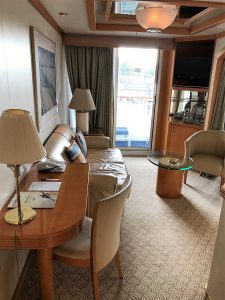 Despite all these things to do you're going to need to sleep at some point! And Explorer offers a full range of cabin choices to suit your budget. The nice thing about this ship versus the smaller P&O ships is the range of choices at the balcony and suite end of the range. Let's face it, having your own balcony to enjoy breakfast while you sail into port or have pre-dinner drinks before you head out for the evening just makes a cruise holiday that much more special!
We were lucky enough to have a mini-suite which was much more spacious than this category on other ships. It featured a separate living room, walk-in wardrobe and large bathroom with separate spa bath and generous shower. I'd say it's well worth the extra especially on a longer cruise – go on, treat yourself!
OVERALL IMPRESSION
Bottom line this ship is really impressive! The refurb has created  excellent facilities and very impressive interiors. The ship has a modern feel which is very contemporary Australia – great restaurants and bars but in a relaxed environment. Although this ship is definitely great for families, the range of adult entertainment and secluded areas mean you can travel kid free and feel like this ship is also designed for you.
But the best hardware and food in the world won't guarantee a successful cruise. It's the crew and the service that make for a perfect cruise holiday and the team on Explorer were excellent. They were experienced and energetic and unfailingly friendly. If they can cope with a ship full of travel industry experts but are still smiling in the morning, then they can cope with anything!
We heartily recommend trying Pacific Explorer. CLICK HERE to see our recommendation on the best Pacific Explorer cruises or give us a call and ask for Kristi or Anita – they'll tell you all about it!
Happy Cruising
Alastair, Ash, Kristi and Anita