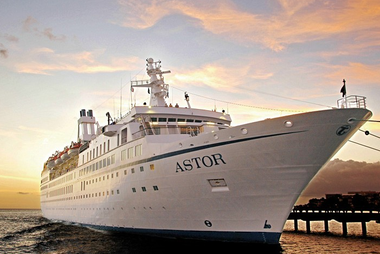 Cabins
Life on Astor isn't just pleasant, it is also very elegant. There are inside, outside and balcony cabins as well as suites onboard offering all of the comforts you would expect. You will feel right at home and more than satisfied with the generously sized cabins that feature all of the amenities you could possibly need.
Dining Information
The Astor offers plenty of culinary indulgences. Alongside classic homely dishes, there are also a number of more exotic choices available from a number of countries. Breakfast is on offer for both early and late risers. An A la carte menu and a Captain's Dinner all make up just a small part of our gastronomic offerings. A sensory festival awaits you as soon as you enter the dining area. Diet friendly meals are also offered, provided you register when coming onboard. There are plenty of dining locations including the Waldorf Restaurant, the buffet-restaurant and the RistoranteToscana. The variety on board is endless!
Entertainment & Activities
Astor boasts exceptional entertainment, from talented singers, dancers and musicians and a first class orchestra. The Astor lounge plays host to a theatre where both show dances and a cabaret can be found. Enjoy the ship's very own library or spend your day wandering through the boutiques. The indoor and outdoor swimming pools are an ideal spot for taking part in water sports.
Health & Fitness
The wellness and beauty quarters on board offer indoor and outdoor swimming pools, a sauna and tanning facilities, as well as a massage service that will ensure you are completely relaxed in both mind and body. The Astor also has a fitness center, a jogging path and a volleyball court available for more active guests. There are also a number of ping pong tables on the sport deck. You will also find a hospital onboard.
Dress code
There is no a specific dress code onboard Astor. During the day there is a somewhat sporty and active atmosphere, however once the sun goes down guests tend to dress up for the evening's scheduled events.