Scandinavia and Baltic Cruises
Rich in history, and northern charm, you will be overwhelmed by the hospitality of the locals and history that remains in these European countries.
Baltic Sea
A Baltic Sea cruise offers the chance to appreciate charming cosmopolitan cities, cultures and iconic landmarks. The Baltic region is perhaps best observed on a cruise along the gleaming Baltic coast that will introduce you to Denmark, Estonia, Latvia, Finland, Germany, Lithuania, Poland Russia and more. Discover German coastal locations including Heiligendamm and Kühlungsborn as well as other atmospheric beach resorts. Wander along Sweden's wild west coast and make a memorable stop in Stockholm. Glide down the brimming Baltic waters towards Denmark and visit the Scandanavian sensation of Copenhagen for a seamless urban experience and classic cuisine.
Let a luxurious cruise guide you to Lithuania and visit the heavily cobbled town of Klaipeda with its distinctly German architecture and Dane River. Venture north to the Baltic gem of Estonia and discover the vibrant Tallinn- a perfect cocktail of modern, medieval, sophistication, charm and vibrancy with Baroque palaces and glass skyscrapers. See the dynamic culture and bewildering natural surroundings of Bergen and Norway from the optimal perspective of a cruise. From the heavenly harbourside of Finland's Helsinki to the contemporary creativity of Russia's St. Petersburg, a Baltic Sea cruise promises not to disappoint.
show more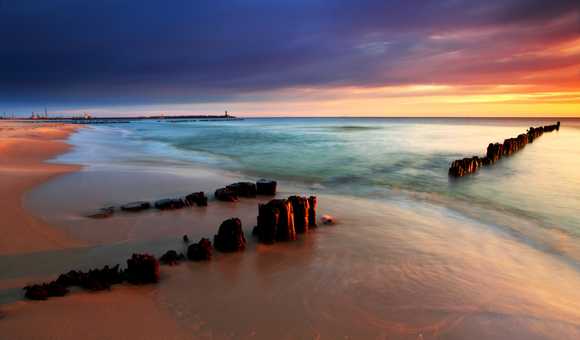 Ports in the Baltic
Top Ports in the Baltic
Baltic Sea
As the largest region in Europe, Scandinavia's diversity is no surprise, but when we consider than only 4% of the European population live here it's truly astonishing.
Denmark is the smallest and most typically European Scandinavian state. It equally boasts the best beaches and a unique Viking legacy. Its royal palaces in Copenhagen are as imposing as they are impressive. Norway is extremely popular among cruise goers due to the extensive fjord lands that exist there. In addition, passengers visiting this beautiful part of the world may have the opportunity to witness spectacles of nature such as the Northern Lights or the Midnight Sun.
Sweden is Scandinavia's largest country, and the Swedish Archipelago is the second largest in the Baltic Sea.Its spectacular and lengthy coastline is dotted with extraordinary cities such as Gothenburg and Stockholm, where traditional and modern architecture seamlessly blend together.
Finland, a remote Scandinavian country, is best known for its vibrant capital city Helsinki with its maritime silhouette, but the numerous islands and lakes hold the true essence of the country. If you're cruising in Scandinavia be sure to check out Iceland, the land of fire and ice, with its unique volcanic landscapes, snaking glaciers, cascading waterfalls and volatile geysers. There's something for everyone on a Scandinavian cruise.