Star Clippers
Stunning tall ship cruises to off-beat Europe and Caribbean destinations.
Star Clippers
Star Clippers strives to make your cruise as adventurous as possible and carry you to the unspoiled wonders of the world. With Star Clippers, it's all about the sailing experience rather than the facilities allowing you to cruise unconventionally like a true sailor without the extravagance of other cruises.
Feel the wind fill the sails and unwind to the casual onboard ambience as you glide towards the Caribbean, Western and Eastern Mediterranean, Cuba, Asia or the Panama canal. Those craving a real adventure can embark on the twice yearly transatlantic crossings, when the ships reposition between the Mediterranean and Caribbean. To enhance the sailing experience, informal classes on things like knot tying or celestial navigation will educate your cruise.
Star Clippers proudly boasts stunning tall ships including the Flying Clipper and Royal Clipper. Impressively, Star Flyer and Star Clipper have the tallest masts in the world. Make the most of an abundance of entertainment and activities, with water sports being at the heart of each cruise including complimentary snorkeling, kayaking, sailing and waterskiing. Meals are an international mix and food preparation is supervised by Jean-Marie-Meulien, a top French chef with many Michelin stars.
show more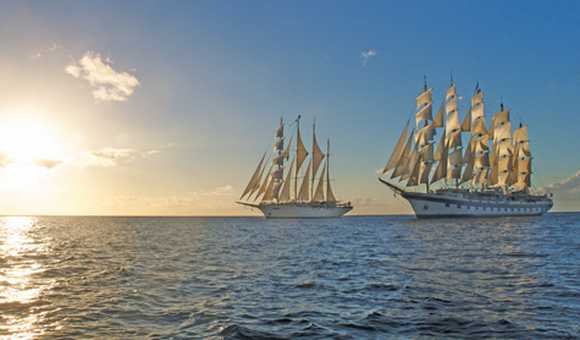 Star Clippers
Star Clippers
Casual elegance is the defining characteristic of Star Clippers. Its 4 star ships may be resplendently finished, but the easy-going informality that defines life on board any of Star Clippers' three ships ensures that your holiday will be one of ultimate relaxation.
Star Clippers' Flagship, the Royal Clipper
The Royal Clipper is an awesome sight to behold. Inspired by the legendary ship of the early 1900s, the Preussen, the Royal Clipper boasts 42 sails and is the only five-masted and full-rigged sailing ship to follow. As with all of Star Clippers' vessels, the Royal Clipper combines comfort and modern day luxury with traditional elegance from the grand age of sailing. A classic example of this is the modernisation of the three crow-nests. Not only can guests climb the mast to visit these, but once they arrive at the crow-nests they will discover that elegant settees have thoughtfully been placed there. Other fabulous features of the Royal Clipper include an atrium spanning three decks which lets in gleaming rays of sunshine from its glass ceiling. The spa and health club is also a real draw due to its impressive underwater portholes – beat that for a workout with a difference! This impressive flagship accommodates a maximum of 227 guests and therefore has a friendly, intimate atmosphere.