Quark Expeditions
Experts in polar exploration and encounters with wildlife. With onboard scientists and lectures, you can travel and learn about the great places you're visiting.
Quark Expeditions
Quark Expedition's story began in 1991, when adventurers Lars Wikander and Mike McDowell visited the North Pole for the first time. The impact the beauty and the unspolit wonder of the region had on the travellers became Quark Expedition's inspiration in promoting the majesty of some of the last frontiers on the planet.
Choose one of Quark's 12 ships like 50 Years of Victory, Evolution and Ocean Diamond for the ultimate polar adventure cruise holiday. Quark endeavours to inspire you and make a lasting impression with one of its Arctic and Antarctic expeditions.
Quark Expeditions roam the Arctic Ocean and visit Canada, Greenland, Iceland, Norway, Russia, the USA, Sweden and Finland. Circumnavigating Antarctica will bring you to amazing places like South Georgia and the Falklands, you will be able to spot penguins or go on a penguin safari, see seals and whales and gaze at the incredible icebergs. Expect the unexpected with Quark Expeditions' Arctic and Antarctic cruises.
show more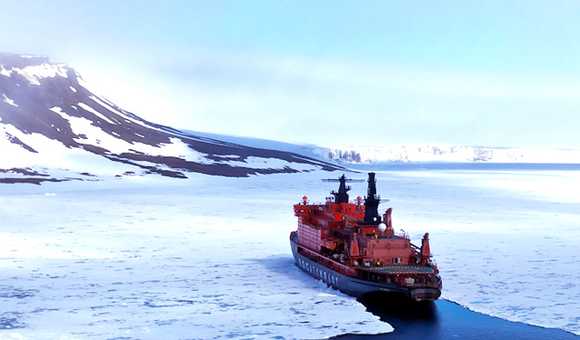 Quark Expeditions
Quark Expeditions has been a leader in polar expeditions since its founding in 1991. Its ships possess specially reinforced hulls and icebreakers allowing them to make some of the most remote and captivating areas of the world available to you.
This prestigious company has pioneered and fostered a concept of exceptionally adventurous expeditions while not compromising on the comfort and facilities one would expect from a cruise company of renown.
It boasts the most diverse range of adventure ships in the Arctic and Antarctic and with a maximum passenger capacity of just 189 Quark Expeditions becomes a unique and intimate experience.
Quark Expeditions in Antarctica
Quark Expeditions, "The Leaders in Polar Exploration", offers you the chance to immerse yourself in the world's last true wilderness. The Antarctic Peninsula is the great white continent's northernmost region and is home to a dense concentration of fascinating and unique creatures including seals, whales and over 7 species of penguin. With Quark expeditions you will have the wonderful opportunity to learn to spot the differences between adélie, chinstrap and gentoo penguins! The expert lectures and specialists will share a wealth of knowledge with you so you can get the most from your trip. You'll feel like an expert by the end of your extraordinary cruise.
Depart from Ushuaia, Argentina, the southernmost city in the world and traverse the legendary Drake Passage with its turbulent waters. When you arrive at Port Lockroy on the 7th continent a host of exciting activities will be lined up for you. Push your limits and go camping in one of the most isolated places on the planet, then go cross-country skiing, kayaking, and mountaineering until you drop!
Very Poor
Based on 0 Reviews
Detailed Reviews
Ship : 0 Cabin : 0 Dining information : 0 Shore Excursions : 0 Services : 0 Fitness : 0 Entertainment : 0