Oceania Cruises

High quality cruises with the finest culinary experience at sea, meticulous attention to detail, and a country club-casual ambiance on every voyage.

Find offers
Oceania Cruises
Oceania Cruises offers upscale cruising at one of the best value for money ratios in the travel industry. Their six luxurious, mid-size vessels are priviledged to dock at many ports and hidden gems, that are not accessible to larger ships, which allows you to travel the world with poise and sophistication.
Their attention to details and service let you enjoy your cruise holiday according to your schedule, which alligns with their slogan 'Your World. Your Way'. From Butler Service and a personal Concierge to Belgian chocolates and nightly turndown services, all your needs are met. Enjoy exquisite dining experiences, with culinary delicacies inspired by Master Chef Jacques Pépin, in one of the onboard restaurants, or course-by-course in the comfort of your stateroom or Suite.
Oceania Cruises let you discover the world with elegance. Cruise from Australia with Oceania, or book a Fly Cruise Packages with flights, hotels, and transfers often included. Everything is taken care of for you, letting you to make the most of your cruise holiday.
show more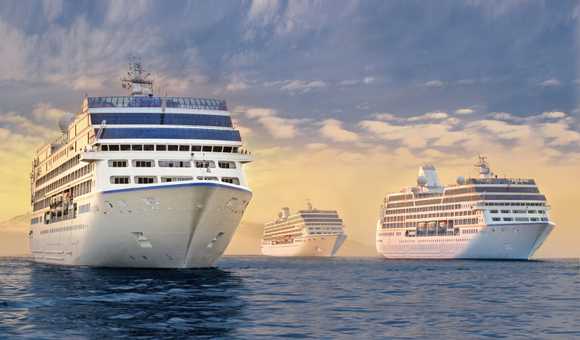 Oceania Cruises
Oceania Cruises
Oceania Cruises was only recently formed in 2002 by cruise industry veterans Joe Watters, Frank Del Rio and Bob Binder. It is the world's largest upper premium cruise line which has built itself up on the pillars of excellence in cuisine, reliability, elegance and luxury. The Mission Statement of Oceania Cruises states that, "Oceania Cruises will provide the highest quality cruise product for mature and discerning travelers by offering the finest culinary experience at sea, meticulous attention to detail, and a warm and inviting country club-casual ambience on every voyage."
With a convivial and pleasant atmosphere Oceania Cruises facilitates a refined and sophisticated travel experience. Oceania Cruise's 5 mid-sized ships are luxurious, opulent and classy and contain state of the art culinary, entertainment and fitness facilities.
Oceania Cruises is delighted to introduce the highly-anticipated Marina and Riviera. They will join their celebrated, prized sister ships Regatta, Insignia and Nautica maintaining the high standards of Oceania Cruises in terms of luxury and impeccable service.
Fine Dining and Cuisine
Oceania Cruises have made the claim that their cuisine is "the finest in the sea" which may seem a bit audacious; however with the expertise of world renowned master chef Jacques Pepin as executive culinary director, passengers are inclined to agree. The intimate nature of these cruises is reflected in the ingenious dishes prepared on a daily basis by the master himself and passengers can always expect sumptuous delicacies in up to 6 unique dining establishments, each presenting a diverse and mouthwatering menu. The diversity of these restaurants will ensure passengers never get bored. The Grand Dining Room is the main dining room and serves familiar continental cuisine, while restaurants like the Terrace Café and the Polo Grill are more specialized.