Island Escape Cruises
Luxury intimate adventures to Tahiti and New Zealand.
Island Escape Cruises
Island Escape is a small ship, adventure cruise company operating wildlife, wilderness and scenic cruises to the most beautiful areas of New Zealand during the months from November through April. Your cruise with Island Escape promises to be a cocktail of exotic lands, chef-prepared gourmet meals, experienced guides and outstanding quality of service.
Island Escape's ship, Island Passage, can facilitate a 6- seater helicopter which adds excitement and thrill to your shore excursions. If you take a cruise to the Bay of Islands, for example, you will enjoy a scenic 15 minute helicopter ride to the destination which returns to the ship after your tour. Passengers are usually active lovers of adventure, photographers and families.
Island Escape cruises are the ultimate way to experience the islands of Tahiti, the Bay of Islands and the Fjordland National Park. Excellent food and wines are a guarantee on your menu. Seafood is a daily feature as well as other gourmet delicacies and locally produced artisan foods plus the onboard wine cellar is full of award winning French, Australian and New Zealand wines.
show more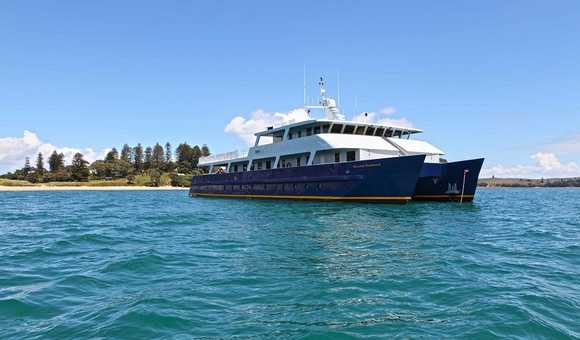 Island Escape Cruises
Island Escape Cruises
Island Escape Cruises is a New Zealand based cruise line. The company was established in 2005 to offer a more intimate voyage experience around the incredible islands of New Zealand, Vanuatu and Fiji. The most significant feature of this cruise line is the small-ship cruises that facilitate the exploration of the more remote locations that large ships cannot access. On a typical journey around New Zealand you can expect stopovers at other smaller islands such as the glorious Waiheke Island, Great Barrier Island and Kawau Island. The final destination of this journey comes to a climax in the wonderful city of Auckland, the epicentre of New Zealand.
Island Escape cruises also includes cruise lines to the amazing sun-soaked islands of Fiji. The beauty of Fiji is unparalleled. It is becoming a more popular cruise and holiday destination as the years go by. The Island Escapes ship enables cruisers to travel between all of these little unique islands.
Island Passage – The Ship
Accommodation
Step aboard their 24-guest ship the Island Passage and revel in all of the luxury it has to offer. Having this amount of guests makes for a more communal and intimate experience. Accommodation consists of spacious staterooms and en-suite cabins filled everything a person staying on a luxury cruise ship would expect. The Passage was designed to prevent guests from feeling cramped and it has certainly succeeded in doing so.
Helicopter Excursion
The ship also comes with a specially mounted helicopter pad. The 6 seater helicopter is used to transport the cruise passengers around all the breath taking islands. This bird's eye view of paradise offers an unforgettable exhibition of beauty and grace. Cruises such as 'Secrets of Auckland' and 'Bay of Islands' include a 15 minutes spectacular helicopter flight that departs from, and returns, to the ship. Passengers will be left wanting more!