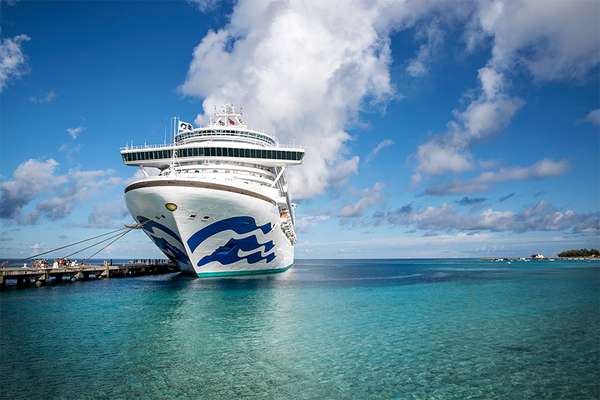 Cabins
The completely refurbished and beautifully enhanced Caribbean Princess offers a choice of diverse Suites, Balcony, Outside and Inside Cabins. No matter which category you choose, all cabins are comfortable and have all the modern amenities you can think of. 'The Princess Luxury Bed' with its scientifically engineered mattress and bed springs is available throughout the cabin types and will ensure your overall wellness and ultimate comfort.
Food & Drinks
The entire Princess fleet is proud to be part of the gastronomic society, "Chaîne Rôtisseurs" and the Caribbean Princess is no exception. The food on board is prepared by First Class chefs. You can look forward to creative dishes and regularly changing menu presentations. Dine traditionally at set times and enjoy the service of your personal waiter, or eat whenever you please with 'Anytime Dining'. Real gourmets are invited to sample exclusive dishes from all over the world in the specialty restaurants, such as 'Sabatini's Italian Trattoria' or the 'Crown Grill'. The Caribbean Princess offers plenty of casual bistros, cafés, and bars for snacks and drinks at any time, which you are also welcome to enjoy while lounging by the pool.
Entertainment
Enjoy countless activities, courses, shows, informative lectures, workshops, and exhibits on board the Caribbean Princess. There is also a fully-stocked library, internet café and photo studio. Why not embark on a shopping spree in the duty-free shops, swim or play golf during the day and enjoy great evening entertainment with all the latest films or fantastic Broadway-style shows in the Theatre. A casino and many different lounges and nightclubs offer even more entertainment after sundown. Kids and teens are invited to check out the kids' and youth centers, that are well-equipped with films, video games, table football, jukeboxes, and board games. There is also diverse entertainment programming for all age groups in the 'Treehouse', 'The Lodge' and the 'Beach House'.
Wellness & Fitness
Set your spirit free with a luxurious visit to the Caribbean Princess' 'Lotus Spa' wellness area, where different pools and whirlpools are all warmed up to help you relax. The 'Lotus Spa' also houses a state-of-the-art fitness area with the latest equipment, classes and personal training, among other features. The adults-only 'Sanctuary' offers a relaxing environment allowing for peace and quiet.