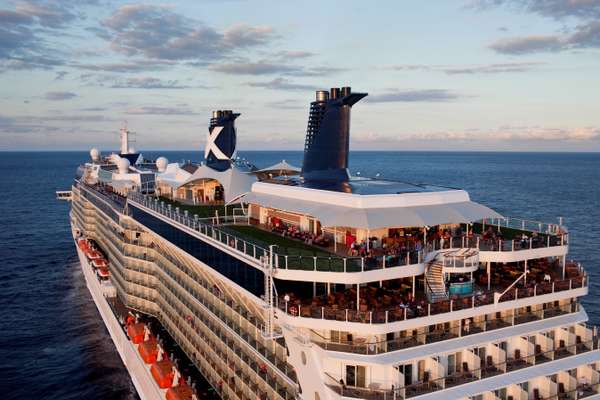 Cabins
You will lack for nothing on board the Celebrity Reflection. Thanks to the great selection of cabins aboard this luxury liner, you are guaranteed to find the best accommodations to meet your needs. Each cabin is stylishly and elegantly furnished to make your cruise as relaxed and as comfortable as possible. Guests can find a wide array of cabin categories on board to reflect every need and budget. Staterooms range from inside cabins with all of the necessary amenities to Suites which offer luxuries such as a European-style butler service.
Dining Information
When it comes to cuisine, prepare to be pampered on the highest levels. Fresh, exquisite and lovingly prepared dishes are served in the nine specialty restaurants, where the friendly personnel are always happy to help.Assist a celebrity cef on the grill at the Lawn Club Grill or visit Qsine an innovative dining experience which promises to offer passengers a culinary experience like no other, on land or sea. Later you can visit Michael's Club to relax in a comfortable atmosphere while enjoying a range of cocktails, canapés and more.
Entertainment
There is a varied selection of entertainment opportunities on board Celebrity Reflection. Check out the spectacular Hot Glass Show in the evening, followed by a visit to the exclusive nightclub. Of course, you could also spend the evening hours trying your luck in the casino or taking in a fantastic live show at the theatre. When looking for a quiet getaway, you're welcome to retreat to 'The Hideaway'-- an ideal place for reading, listening to music and simply relaxing.
Activities
The Celebrity Reflection offers a great selection of activities, one of the biggest highlights of which is the Lawn Club. Here you can play a round of croquet or boccia on the well-tended English lawn. The so-called "Alcoves", roofed wicker beach pods, provide quiet getaways for 2 to 4 persons each. Use the newest Apple products in the Celebrity iLounge to communicate with friends and family at home, or relax with music or a good book. A card room and library can also be found on board.
Wellness and Sports
Take advantage of the diverse wellness and sports offerings on board the Celebrity Reflection. In addition to a basketball court and athletic track, you will also find a fitness center equipped with state-of-the-art exercise machines. Let yourself be pampered with different wellness programmes in the "AquaSpa" AquaSpa, refresh yourself with a dip in one of the three pools, or take it easy relaxing on the comfortable sitting and lounging furniture on the spacious sundeck.
Dress Code
For a journey on the Celebrity Century casual and sportive clothing is recommended during the day, whereas elegant evening wear is recommended for the evenings. However, all who prefer to dine more casually in the evening are more than welcome to do so in the laid-back atmosphere of a self-serve restaurant.
Note for guests traveling with children
All persons under the age of 18 are considered minors when travelling with Princess cruises. Both minors and young adults (between the ages of 18 and 21) are required to travel with an adult supervisor.
General Information
Although the main language spoken on board is English, some of the crew members and reception personnel also speak German. Menus and the daily programme can also be provided in German, and a German-speaking tour guide will be available for most land excursions.