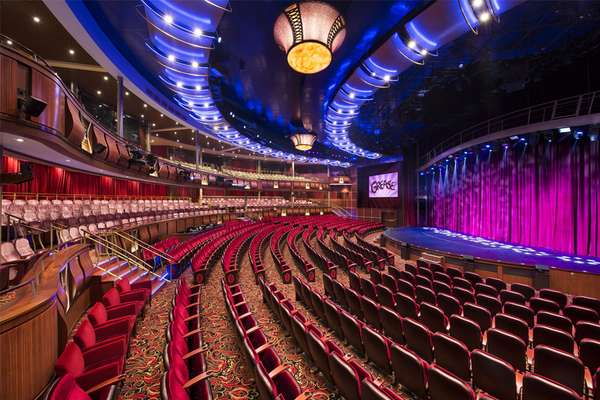 Cabins
Feel free to choose from 36 different cabin categories, including Inside, Outside and Balcony cabins, as well as cabins with a view of the signature Central Park or the Boardwalk. When it comes to suites, you have the choice between AquaTheater Suites with a view of the Amphitheater, or Loft Suites, which stretch over two floors, among others. Travelling with the family? No problem - large family cabins make sure there's enough room for everyone. Each stateroom offers all the amenities you will need on board and ensure that you are comfortable throughout your journey on board. Harmony of the Seas offers 46 wheelchair accessible cabins.
Food & Drinks
With more choice then ever before, the Harmony of the Seas offers an array of dining options. Indulge in 3-course menus when dining in one of the elegant main restaurants, or reserve a table in one of the specialty restaurants. Whether it's fine Italian cuisine in Portofino, a juicy steak in the Chops Grille, or fresh takes on Mexican favorites at Sabor Modern Mexican restaurant, there is something delicious for everyone. In addition you may choose to venture down the rabbit hole to dine at the Wonderland Imaginative Cuisine. After an exciting day at sea, choose one of the many bars and lounges so spend your evening in and relax with a drink in a comfortable atmosphere, you can even be served at our Bionic Bar by Robot bartenders.
Shopping
Countless shops and boutiques along the Royal Promenade invite you to shop around, offering fine jewellery, clothing, perfume and whatever else your heart could desire.
Entertainment
What can't be found on the Harmony of the Seas? Thanks to a unique lifestyle concept, guests are able to enjoy their holiday exactly as they please in seven distinct neighbourhoods there is entertainment around every corner. On the Royal Promenade there are parties and parades to enjoy each evening, while later on you can catch some summer lovin' in Broadway's hit musical Grease. If that isn't quite what you fancy then there's always the AquaTheater shows, ice shows and much more live entertainment on board. On board Harmony of the Seas activites are endless! Why not go for a stroll through the spacious green areas of Central Park or down the Boardwalk where you can find carnival games and much more. If your feeling adventurous scale one of the climbing walls each 43 feet high or zip line across the ship. If you feel like escaping the hot summer weather have a go at ice skating or enjoy a splash in the pool where you can slip and slide down the three-story waterslide. In the evening spend some quality time with the family and see a new released movie in the 3D movie theater.
Wellness & Fitness
Take full advantage of the extensive treatment menu in Vitality Spa and relax in one of the many saunas in the thermal area. Spend a while in one of the ten whirlpools on over, two overlooking the ocean or if you prefer to get your heart racing stay fit with modern exercise machines at the Fitness Center and enjoy one of the daily fitness offerings in the Studios. If you enjoy the evening air unwind on the athletic track .