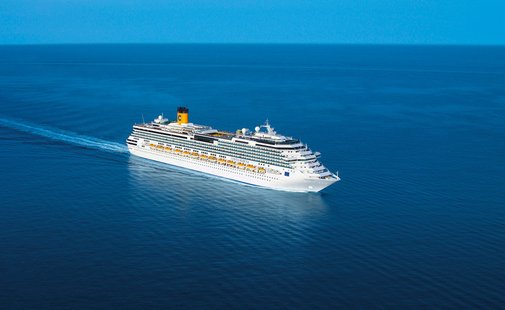 Cabins
You will find a wide variety of cabin categories aboard the Costa Serena. There are a total of 1,500 cabins on this ship. Whether you are travelling as an individual, couple, family or group, you are sure to find a cabin that suits your needs. There are also special Samsara cabins, which come with directaccess to the spa and exclusive access to the Samsara Restaurant.
Dining Information
With five restaurants on board, you will be spoiled for choice. Sample Italian and international cuisine and savour the elegant ambience found in each restaurant. Aside from the buffet restaurants, Ristorante Ceres and Ristorante Vesta, you have the opportunity to try the menu in the Club Bacco restaurant and dine in the Samsara Restaurant. In addition to the restaurants on the ship, there are 13 bars serving delicious hot and cold drinks and snacks.There is also a "Cognac & Cigar Bar" and a "Coffee & Chocolate Bar."
Entertainment
The Costa Serena provides exquisite musical entertainment and a wide range of other recreational activities. In the theater, there are shows every night and after sunset you can enjoy movies under the starry sky. There is also a casino on board, as well as daily entertainment programmes for adults and children.
Activities
Choose from a variety of onboard activities. Experience the thrills of Grand Prix racing in the race car simulator. The pool deck has five hot tubs, four pools, a waterslide and a retractable glass roof. For a daily dose of exercise, visit the gym, have a run on the outdoor athletic track or try out the multi-purpose sports field. If you would preferto read a book, the library has a great selection of titles. There is also a shopping centre for those who want to go on a shopping spree. For younger children, there is the Squok Club with PlayStation entertainment and a children's wading pool.
Wellness
The exclusive 6,000 m² Samsara Spa offers a great opportunity to unwind. It extends over two decks and, with its fitness center, it provides a perfect combination of exercise and physical relaxation. The thalassotherapy pool, saunas, a solarium and Turkish steam bath will make your stay an unforgettable experience.
Family Benefits
Young people under 18 years of age travel free if they are housed in a cabin with two adults. Please note that this offer can be claimed for families with up to two children.
Dress Code
The dress code is casual aboard the Costa Serena. Wear clothing that you feel comfortable in. For the weekly Captain's Dinner, more formal attire is recommended.
Ship Data
Entered service: 2007
Length: 290 m
Flotation Depth: 8.30 m
Tonnage: 114,500 tons
Speed: 21.5 knots
Number of decks: 14
Passengers: 3,780
Crew: 1,100
Languages on board: English, Italian, German
Currency on board: Euro
Internet on board: Wireless internet is available for a fee.
Show more offers
Costa Serena
The new Costa Flagship will be the ship of space and light. Its name symbolises harmony and serenity. Costa Serena is the largest and longest ship in the Costa fleet. The prestigious Samsara Spa spreads over two decks and will be a heaven of wellness and relaxation. The beautiful Samsara Suites have direct access to the Spa. Over 500 cabins have balconies. It is up to you what you can do: You can e.g. choose out of 13 bars and 5 restaurants. There are 4 swimming pools, two with retractable glass roofs. The decks are spacious and panoramic, and the stylish public areas are designed with your comfort and relaxation in mind.