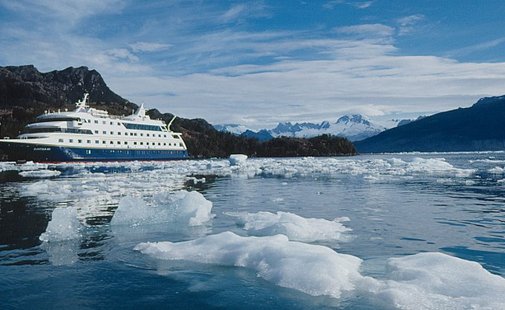 Cabins
The Via Australis offers its guests different categories of cabins, all furnished with care to give you maximum comfort. You have the choice to book a single cabin, double or triple, depending on your needs and preferences. Whatever your choice, a highly welcoming environment will welcome you.
Dining Information
On board the Via Australis is a dining room where you can spend pleasant moments for breakfast, lunch and dinner, enjoying specialties of different kinds, which our chefs prepare every day for you. The choice is varied to suit all tastes and to satisfy all tastes. You can take a break and relax, sipping a cup of tea or coffee with friends, and then you can go Yamana Sky, forgetting the time as you enjoy the magical panorama.
Entertainment & Activities
On board the Via Australis you will never be unprepared for the wonderful attractions that you can visit once on land, during stopovers: Cruceros Australis organizes interesting information sessions during which you will discover the secrets of nature of your excursion's destination. You will also always be aware of the routes and possible activities that are carried out. Your imagination will be stimulated when you know the natural processes that led to the origin of the landscape on the planet. From the panoramic lounges and decks you can admire glaciers, sea lions, elephant seals, dolphins, exotic flowers and a lot more.
Shopping
If you love shopping, aboard the Via Australis will love its many shops, some with duty free items, where you can find everything you need and more.
Dress Code
We would like you to feel much more at ease on board. For this reason we strongly recommend that you dress very practical and comfortable on board, so you're always comfortable. During the excursions you need to wear sports clothes, hiking shoes or hiking boots. Items not to forget to include in your suitcase are: cap, sunglasses to protect your eyes from harmful ultraviolet rays reflected from the ice, jackets and pants for rain, heavy sweaters, gloves and scarves.
Ship data
Entered service: 2005
Length: 71 m
Width: 13 m
Tonnage: 2750 GRT
Speed: 12 knots
Passengers: 136
Crew: 44
Languages on board: English and Spanish. Our guides also speak Italian, German and French.
Internet: Not Available
Currency on board: Euro, U.S. Dollar, circuits of payment accepted are MasterCard, Visa, American Express, Diners. It is also possible to pay with traveler's cheques, U.S. Dollars, Euros, Chilean pesos and Argentine pesos.
:
Show more offers
Via Australis
On the Via Australis you will cruise through the world's most pristine and magnificent regions of the worldcabins offering passengers the amenities of a great hotel: private bathroom with shower, heating and air-conditioning, chest of drawers, closet, bedside table, internal telephones and 110 volt electrical current. All excursions mentioned in the program are included (subject to change due to weather conditions) as well as full board and open bar.