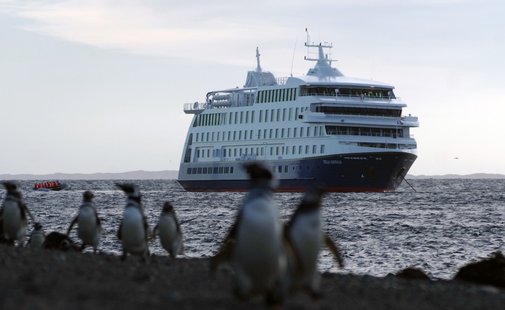 Cabins
Aboard the Stella Australis you can choose to stay in one of our comfortable cabins: single, twin, double and triple. All cabins are outside and with a window where you can admire the amazing landscape through the Stella Australis.
Dining Information
On board the Stella Australis our guests dine at our delicious restaurant located in Patagonia. You can enjoy dishes prepared by our chef during breakfast, lunch, and dinner. The ship has three lounges with bars, one on each floor, where you can enjoy tea, coffee or light meals as you talk with travel companions or reading the newspaper on the comfortably plush sofas provided.
Entertainment & Activities
We would really like you, as our customer, to always be aware of all the wonderful activities offered by Cruceros Australis. For example, Stella Australis organizes interesting information seminars, where our experts will explain the special landscape of the places you can visit while hiking. You will be fascinated by the information given about the animal species that migrate to this part of the world, so while hiking you will be able to recognize them. Also from the rooms and panoramic terraces you can see colonies of penguins and other rare species of animals living in the wild.
Shopping
On board the Stella Australis you will find a special shopping area where you can buy sports clothing, accessories, souvenirs and gifts to surprise your friends and relatives.
Dress Code
We recommend our passengers to dress very practical and comfortable on board, so as to be always at ease. During the excursions you need to wear sports clothes, hiking shoes or hiking boots. Details not to be missed are: cap, sunglasses to protect your eyes from harmful ultraviolet rays reflected from the ice, jackets and rain pants, sweaters, gloves and scarves.
Ship data
Entered service: 2010
Length: 89 m
Width: 14 m
Passengers: 210
Languages on board:: English and Spanish. Our guides also speak Italian, German and French
Internet: Not Available
Payments on board: the circuits of payment accepted are MasterCard, Visa, American Express, Diners Club. It is also possible to pay with traveller's cheques, U.S. Dollars, Euros and Chilean and Argentine pesos.
Show more offers
Stella Australis
The Stella Australis is a luxurious, awe-inspiring cruise ship. The ship, which was constructed in 2010, consists of 100 total cabins and can hold up to 210 passengers. You won't even miss working out on your Patagonia vacation as the ship contains a gym for passengers. The Stella Australis offers tourists a relaxed stay, while providing breathtaking sights from the decks.For the best in Chile travel choose Australis to reach all of Patagonia's fabulous venues, attractions, and expeditions.
Indulge in first class Chile Travel onboard the Stella Australis. When you travel with us you have to opportunity to relax on a spacious cruise ship, with a beautiful atmosphere, and fine dining. Before you embark on your Patagonia adventure enjoy the comfort of luxury cabins that provide you with incredible ocean views and lavish decor. Wine and dine, mix and mingle, and enjoy our fabulous entertainment on your Patagonia vacation.