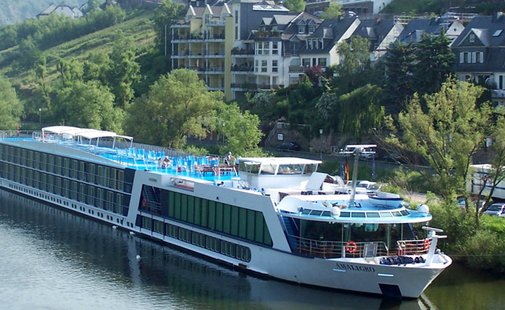 Cabins
All cabins and suites aboard the AmaLegro contain windows or French balconies and thus allow you to get a beautiful glimpse of the breathtaking landscape. Look forward to modern amenities to make your life much easier such as Internet access, marble bathrooms, flat screen television, hairdryer, telephone, air conditioning and more.
Dining Information
Your dining experience aboard the AmaLegro consists of tantalising dishes giving you explosions of flavour using dishes from the best of regional cuisine as well as others. This is not just any food, it is masterfully prepared by top chefs who have received awards from La Confrérie de la Chaîne des Rôtisseurs.
Entertainment & Activities
There are plenty of onshore excursions available on the AmaLegro and form an integral part of your river cruising experience with AmaWaterways and feature experienced guides who know the local area well and can show you the best of every area you will explore. You can even choose at which pace you would prefer to undertake the excursion as we are aware not everyone likes to rush but then there are others who like to get through everything more quickly! The Sun Deck offers a great place to relax on the lounge chairs and allow you to enjoy the open air. Keep in touch with those back home using the Wi-Fi, letting you send photos of your trip back home while you are on the ship! The Main Lounge is an ideal place to relax and have a nice drink in the evening or go dancing. Buy something interesting at the gift shop for those back home or simply for yourself.
Health and Fitness
Take a dip in the pool and Jacuzzi and meet other passengers while keeping fit. The Fitness Center allows you to keep track of your personal fitness regime while still on holiday and the sauna offers a relaxing place to go after a hard day of onshore trekking. Or why not get a massage or a new hairdo for the evening dinners at the salon?
Ship Data
Entered service: 2007
Length: 109.7m
Number of decks: 4
Passengers: 150
Crew: 41
Languages on board: English
Currency on board: Euro
Internet: Wi-Fi
Show more offers
AmaLegro
Ms Amalegro is sister ship to the ms Amadagio. On board you will enjoy the luxury of more space than on any other cruise ship in Europe. There are 2 lounges located on the upper deck where you can enjoy panoramic river views, the Panorama Lounge which accommodates up to 150 passengers, and the smaller Adagio Lounge which is perfect for groups and located in a glassed-in wellness area featuring a Fitness Center and a Massage and Beauty Salon. The ship has an elevator as well as bicycles on board for you to enjoy, while exploring on shore.
Inside your tastefully decorated cabin, you'll find all the amenities of a fine hotel, white-on-white plush bedding with down pillows and down duvet, a cozy sitting area, direct-dial telephone, flat-screen TV with local and satellite channels, internet access, safe, individually controlled airconditioning and ample closet space. All 75 staterooms are outside; 62 (82%) feature French balconies.
Although rarely found on European river cruise ships, suites aboard the MS Amadagio are extra spacious – 255 square feet. They feature a sitting area with a sofa and two chairs, floor-to-ceiling windows with French balcony and a luxurious, extra spacious bathroom with bathtub and shower.