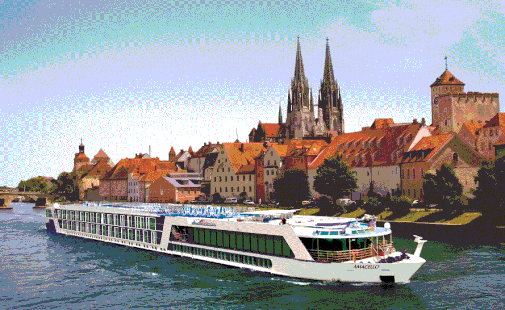 Cabins
All accommodation aboard the AmaCello ranges between 13-24m2 in size and contains wonderful amenities such as marble tiled bathrooms, high speed internet, flat screen television, air conditioning and French balconies.
Dining Information
Dining aboard the AmaCello consists of a range of different dishes made from the freshest ingredients to create the most delicious food you will experience on a river cruise. The restaurant serves fine food prepared by award winning chefs from La Confrérie de la Chaîne des Rôtisseurs so you will be in for a taste sensation which is out of this world!
Entertainment & Activities
There are plenty of onshore excursions available on the AmaCello and form an integral part of your river cruising experience with AmaWaterways and feature experienced guides who know the local area well and can show you the best of every area you will explore. You can even choose at which pace you would prefer to undertake the excursion as we are aware not everyone likes to rush but then there are others who like to get through everything more quickly! The Sun Deck offers a great place to relax on the lounge chairs and allow you to enjoy the open air but you could also have fun with the giant chess set or have a game of golf. Keep in touch with those back home using the Wi-Fi, letting you send photos of your trip back home while you are on the ship!
Health and Fitness
Take a dip in the heated pool and Jacuzzi and meet other passengers while keeping fit. The Fitness Room allows you to keep track of your personal fitness regime while still on holiday and the sauna offers a relaxing place to go after a hard day of onshore trekking.
Ship Data
Entered service: 2008
Length: 109.7m
Number of decks: 4
Passengers: 150
Crew: 41
Languages on board: English
Currency on board: Euro
Internet: Wi-Fi
Show more offers
AmaCello
Decorated in a vibrant palette of gold and orange, the AmaCello debuted in 2008. Most staterooms feature French balconies and range in size from 170-255 sq. ft. Enjoy all the amenities of a fine hotel: plush down bedding, marble appointed bathrooms, large closets, complimentary high-speed Internet access and first-run Hollywood movies. Enjoy additional complimentary amenities such as Wi-Fi, a specialty coffee station and a fleet of bicycles. The AmaCello also features a fitness area, sauna, Sun Deck with a walking track and whirlpool, an intimate Aft Lounge and a stylish Main Lounge.